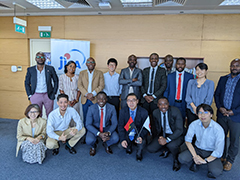 The Republic of Angola is located in the southwest region of Africa, with a population of about 30 million, a large land area of 1.25 million square kilometers, and a long coastline in west of Angola. The northern part of Angola shares its border with the Republic of the Congo and the Democratic Republic of the Congo. There is a vast extent of tropical rain forest by the lower reaches of Congo River and a large area of desert in the southern part of Angola, which adjoins Namibia. A plateau and hilly area widely spreads in the eastern region and a frost could be observed when the temperature drops. The capital of Angola, Luanda, is home to 2.2 million people. Skyscrapers are constructed along the coastline, a cozy dinner could be enjoyed with a view of the sunset over the Atlantic Ocean or a night view of the city.
Angola is one of the largest producers of oil, diamonds and is rich in aquatic resources. Angola used to be the world's third largest coffee producer until 1973, and was producer of rice and cotton during the colonial period. Angola declared independence in 1975 from Portugal, however, the independence led to conflict within the nation and the civil war lasted for 27 years until 2002. The civil war caused the devastation of land and drain of human capital.
Angola experienced a high annual rate of economic growth of about 10% from the early 2000s to around 2014 due to the high price of oil. However, a fall in oil prices after 2014 left the Angolan economy a devastating state. In 2017, the current president, João Lourenço, was appointed and is trying to get out of the oil-dependent economy by investing in multiple industries, such as agriculture, fishery, and mining.
In July of 2018, the current office of JICA was established to further extend our cooperation to Angola. There are many issues Angola faces, such as provision of basic infrastructure, sanitation, business environment and more. We are committed to contribute to Angola's sustainable development and reshape the Angolan economy. We hope you can join us in this mission!
MIYAMOTO Yoshihiro
Chief Representative
JICA Angola Office