In Angola, where the popularity of automobiles is spreading, there is a shortage of auto mechanics equipped with skills for auto maintenance and repair. JICA will dispatch Experts to Toyota Angola Academy to train auto maintenance instructors in collaboration with Toyota Tsusho Corporation's local group company Toyota de Angola. An opening ceremony was held on Oct. 16 at the Academy, located in the Cazenga Training Center, which is under the umbrella of the Angolan National Institute for Employment and Vocational Training (INEFOP).
For the next three years, the Toyota Angola Academy will provide auto maintenance technical guidance to 20 instructors in the vocational training center under the INEFOP group, giving them the skills needed to train auto mechanics.
This technical guidance is provided through cooperation between Toyota de Angola and JICA Experts. Experts will also be dispatched from Brazil's National Service for Industrial Training (SENAI), where JICA has been providing technical training for more than half a century. Training will be held at Brazil SENAI as well. Due to the outbreak of COVID-19, the training will start online for the time being. Based on the experiences of Japan and Brazil, the instructors will contribute to traffic safety in Angola through the cultivation of additional auto mechanics trained at this Academy.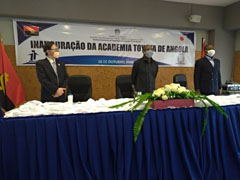 Opening Ceremony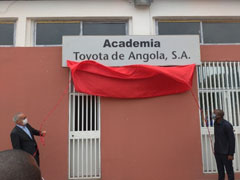 Unveiling ceremony