Background and Objective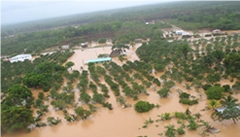 Due to its location and topography, Belize is very susceptible to hurricanes and flooding, suffering heavy damage year after year. After Belize City was nearly leveled by a hurricane in 1961, the nation moved its capital from the coast inland to Belmopan. In 2008, Belize suffered two nation-wide flooding disasters and the government declared a state of emergency. The Caribbean Disaster Prevention Project aims to improve the capability of Belize's disaster management agencies to deal with floods.
Record of Discussion signed on September 2, 2008
Implementation Period: January 2009 to December 2011
Executing Agency: National Emergency Management Organization (NEMO)
Project Summary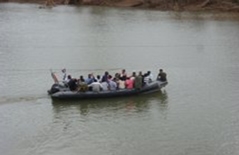 From 2002 to 2006, JICA carried out disaster management project phase I aimed at three countries in the Lesser Antilles in the eastern Caribbean. In phase II, which began in January 2009 and will last for three years, pilot regions in five countries, including Belize, are being identified to gather natural and social data related to disaster management. Based on the data, flood hazard maps will be created, community disaster prevention plans drawn up, early flood warning systems constructed, and disaster prevention drills carried out.