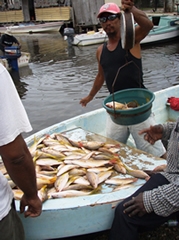 The economic development of Belize's fishing industry looks promising; however, due to insufficient resource management, overfishing in recent years has led to the decline and even depletion of coastal resources. The aim of this study is to make a proposal for sustainable resource management for coastal fishing, contributing toward the economic development of Belize and the betterment of the lives of the small-scale fishermen who live there.
Scope of Work singed in: December 2008
Study Period: Three years
Executing Agency: Caribbean Regional Fisheries Mechanism
Project Summary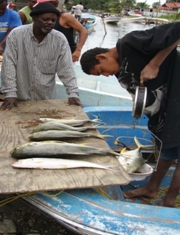 The project is being implemented at the request of the Caribbean Regional Fisheries Mechanism, located in Belize. The study will be implemented in 14 nations. This will serve as a baseline study involving analysis of existing, market research, ecological research, studies of fish catches and experimental operations. After the study, a final master plan will be drawn up based on the results of the pilot projects. The master plan will incorporate a project to encourage the suitable management of coastal resources through the participation of poor, small-scale fishermen, as well as an aquaculture development project.