Project for Rehabilitation of Mostar City Transportation System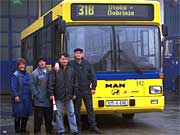 JICA received requests for cooperation from two bus companies in the city of Mostar; one from a firm run by Bosnian Muslims (Bosniaks) and the other from a Bosinian Croat company. It decided, however, that for the sake of ethnic reconciliation, cooperation would only be provided on condition that the bus companies merged based on an agreement by both ethnic groups and the organization was restored to its former, pre-war state. Following this, a new company was set up under the direction of two presidents, one Bosnian Croat and one Bosniak, who take turns presiding over the operations. In acknowledgement of this development, Japan donated buses with grant aid. In January 2003 bus services were launched, and people from the two ethnic groups could once again be seen riding the same bus. The efforts to promote ethnic reconciliation have also attracted the notice of other donors.
In the city of Mostar, a loop service connecting the public facilities of the two ethnic groups was initiated by local residents themselves at the time the bus companies were merged. Expectations are high that the donation of the buses will pave the way for further progress in ethnic reconciliation.