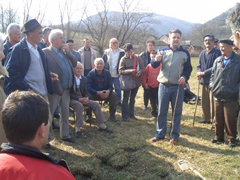 Project for Confidence-Building in Srebrenica on Agricultural and Rural Enterprise Development
Background of the Project :
Due to the tragic conflicts between 1992 and 1995 in Bosnia and Herzegovina, both nationalities (Serbs and Bosnijaks) in Srebrenica have lost their family and members and destroyed their properties.
JICA has started support to re-build confidence between the nationalities through restoration of agriculture in local area since March 2006. Covered area and support scale is enlarged since September 2008.
The revival of economy basis is strong request for the city and inhabitant. JICA has cooperated in Srebrenica in local language and its administrative function to reconstruct the community and economical independence of inhabitant through the dispatch of the JICA experts.
Project type : Technical Cooperation Project
Project objective : Confidence among the targeted population is built through strengthening the capacity to manage agricultural and rural development joint activities.
Project sites

19 MZs in Srebrenica Municipality

Duration : September 2008− September 2013
Executing Organization : Ministry of Human Rights and Refugees, Srebrenica Municipality
Outputs

| | |
| --- | --- |
| 1) | Agricultural and rural development activities are implemented continuously by the targeted people. |
| 2) | Information about agricultural and rural development for rebuilding coexistent society is disseminated. |

Activities

| | |
| --- | --- |
| 1) - 1 | The targeted people find useful technique, talent, and resources in the target area |
| 1) - 2 | The targeted people make plans fo income generation activities based on agriculture. |
| 1) - 3 | The targeted people implement income generation activities based on agriculture |
| 1) - 4 | The targeted people innovate activities for improvement of life condition. |
| 1) - 5 | Srebrenica Municipality and the targeted people monitor the activities |
| 2) - 1 | Srebrenica Municipality keeps record of the activities. |
| 2) - 2 | Srebrenica Municipality implements activities to disseminate information for sharing the experiences and lessons of the Project in local society |