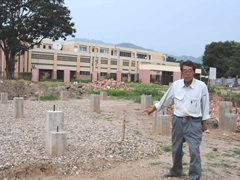 An engineer at the site where one of the largest solar power generating stations is being built in Bujumbura and the hospital it shall serve.
Burundi suffers from severe power shortage although it has enormous potential to generate hydro-power. There has been little investment in this sector for the past few years, with only about two per cent of the population connected to power supply. Even this is unreliable, making some of its essential institutions such as hospitals to suffer during the frequent outages. Rural areas almost predominantly use firewood for fuel.
Japan, under the Cool Earth Partnership initiative, which assists developing countries wanting to contribute to mitigating climate change by means of green-house gases emission, encourages countries to initiate more eco-friendly power generation projects. The projects were to be funded under the Program Grant Aid for Environment and Climate Change amounting to 549,551 thousand Yen.
Burundi joined the Cool Earth Partnership and approached the Japanese government for assistance to supply institutions with power from eco-friendly sources. They cited solar power to hospitals as one of the projects. It is against this background that a solar power project is being constructed at Hospital Prince Louis Rwagasore (PLR) in Bujumbura and is due for commissioning in the next few months. Another solar power project shall be constructed at Centre Hospitalo–Universitaire de Kamenge (CHUK).
CHUK is the national referral hospital for Burundi and works closely with the Faculty of Medicine at the University of Burundi. Consistent supply of power is essential for the hospital because of the many medical activities that take place there. Sections such as theatres, intensive care units and recovery rooms need power supply all day and the solar power shall come in handy during times of power interruption. It will generally also boost the overall power supply.