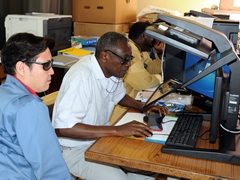 A Japanese expert trains a counterpart in Burundi on map making technology
The Japanese government is assisting Burundi to improve its geographical maps through a training project that is being implemented at the Institut Geographique de Burundi (IGEBU) located at Gitega.
Japanese experts have been posted to the institute to train staff there on modern map making procedures that helps the maps to contain more details than they do now. Such maps are very important for development activities and planning. The training includes both aerial and ground surveys and included donation of equipment and software for the institute.
The students participate in practical training and are eventually assisted to transfer and translate the data to be included in the maps. The intention of the training is to basically transfer the technology to Burundians so that eventually they shall be able to produce digital maps by themselves.