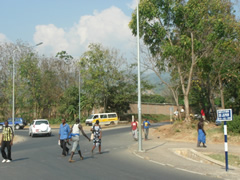 A section of the newly opened North-South Corridor and Circular Roads in Bujumbura
Japan has been supporting the peace building process in Burundi after the long period of civil war and resumed bilateral assistance to the country in 2006. Japan's assistance to Burundi sets two pillars for its priority areas. Under the pillar of improvement of basic living environment, Japan executes programs for economic infrastructure development and health administration and mother/child health care. Under the pillar of peace consolidation, Japan executes programs for peace building through assistances to the international organizations such as UN Agencies.
JICA has therefore supported implementation of Burundi's programs in health and infrastructure development, including supply of equipment and beds to hospitals, provision of buses and maintenance materials to ease transport congestion in the city, provision of electricity to hospitals and construction of infrastructure, including roads. JICA is also keen on capacity development of Burundian personnel in various fields such as agriculture, environment, health care and security, and provides training in Japan for government and government-affiliated officials.
One of the main infrastructure projects implemented by the Government of Japan in Burundi was the grant aid project for rehabilitation of North-south corridor and circular road in Bujumbura. The 4.4km road, part of which was named "Boulevard du Japon" was completed in 2013 and is expected to ease traffic congestion experienced in the city during peak hours. It will also provide an alternative bypass to the western part of the city and close to the port. The road was constructed at a cost of 2.7 billion Japanese yen (34 billion in Burundian currency), and the project involved widening and paving of the existing road, and construction of drainage and bridges.
The President of Burundi, H.E Pierre Nkurunziza presided over the opening ceremony for the roads on 28th March 2013. Appreciating the assistance received from Japan, H.E. Nkurunziza observed: "This project by our Japanese friends is a step forward in the development of our country, especially in terms of rehabilitation activities for roads through the city of Bujumbura, in the pledge to make Bujumbura a model town within the East African Community."
The president assured the Government and the people of Japan that they would make good use of the grants, and urged the Burundi people to take good care of the roads.