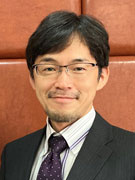 My name is Tadashi KAGEYAMA and I started my new position as Chief Representative of JICA Cameroon Office in September 2020.
Cameroon is known in Japan mainly as a major soccer country in Africa, and many Japanese may remember the heart-warming exchange with Nakatsue Village in Oita Prefecture in Japan, where the Cameroon national team members camped during the 2002 Japan-Korea World Cup. Cameroon is located in the center of the African continent, with a land area 1.3 times the size of Japan, and a population of 25 million, one-fifth that of Japan. French and English are both official languages, and there are more than 270 ethnic groups. The territory includes jungles, oceans, and deserts, and the climate is rich in diversity, ranging from tropical rainforest climate in the south to savannah and steppe climate in the north. Therefore, Cameroon is often called "Miniature of Africa" because it includes many characteristics of the entire African continent.
With a per capita income of about $1,500, Cameroon is positioned as a low and middle income country. It is blessed with crude oil, natural gas, and mineral resources, and with abundant rainfall, it is also a major producer of timber and cocoa, which are exported to Japan. Cameroon is a member of the Central African Economic and Monetary Community (CEMAC), a common currency area comprising six oil-producing countries, and has maintained relatively strong economic management. However, with the recent decline in international oil prices, there is an urgent need to further diversify its industries and promote growth in the non-oil sectors.
JICA's cooperation to Cameroon began with the dispatch of the Japan Overseas Cooperation Volunteers (JOCV) in 2006. Since then, JICA has gradually expanded the scale of its operations and is now developing cooperation through a combination of various cooperation modalities; technical cooperation, grant aid, and yen loans. In the past, for example, we have built about 120 elementary schools in all 10 regions, which are widely known as "Japan's schools" to the Cameroonian people. In addition, the deep wells constructed by JICA in 7 regions provide the local people with the water indispensable to survive.
The current cooperation focuses mainly on agricultural development, small and medium-sized business development, infrastructure development, and protection of environment. In the area of agriculture, we aim to increase the domestic self-sufficiency rate of rice by supporting the improvement of productivity and competitiveness of rice, which depends on imports for about 80% of its demand. With regard to support for small and medium-sized enterprises (SMEs), we support human resource development and establishment of new business management systems through ''KAIZEN'' born in Japan in order to strengthen the competitiveness of SMEs, which account for more than 90% of private enterprises in Cameroon. In terms of infrastructure development, we are improving roads and power transmission and distribution networks, aiming to correct regional disparities and revitalize the domestic and CEMAC economies by improving transportation, logistics, and access to electricity. In the area of forest and environmental conservation, since Cameroon is located in the Congo Basin, which has the second largest tropical rainforest in the world, we are cooperating to contribute to the sustainable management and conservation of forest resources that will benefit not only Cameroon but also the countries around the basin.
In addition to Cameroon, JICA Cameroon Office is also responsible for the cooperation to neighboring countries, namely, Gabon, Chad, Central Africa, Equatorial Guinea, and Sao Tome and Principe.
In my career, I have been assigned in JICA offices in Senegal, Burkina Faso, and Morocco. In Cameroon, my fourth country on the African continent, I would like to contribute to this country's development and the building of a stronger relationship between Japan and Cameroon with the knowledge and experience I have gained through my previous assignments.
I would be so happy if you would continue to have an interest in the activities of JICA Cameroon and support us. Thank you!
KAGEYAMA Tadashi
Chief Representative, JICA Cameroon Office