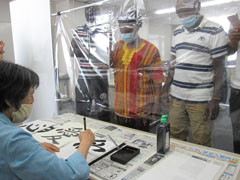 Watch the teacher's hand with a serious expression
Holding in the new corona measures
"Calligraphy" has been held several times a year as an opportunity for trainees visiting Japan to experience Japanese culture, but this time it was held for the first time after the spread of the new coronavirus.
8 Participants gathered at the venue on June 29. As measures to prevent the spread of infection, we have taken various measures such as temperature measurement and disinfection in accordance with "Prevention measures for the resumption of business at schools, etc." in Hiroshima Prefecture.
After receiving an explanation from the instructor, the calligrapher, Yusen Harada, on the typefaces such as "Hiragana", "Katakana", "Kanji", "Kaisho", "Gyosho" and "sosho", the teacher actually went through the vinyl sheet. Participants observed how to use a brush.
Come on, practice
It is practice after receiving the explanation. The brushes, stencil sheets, and inkstones to be used are prepared on their desks, and the trainees immediately pick up the brushes.
The first examples distributed are the hiragana "sushi" and "sea." While struggling with the spinning parts of "su" and "mi", everyone will work diligently. Next to hiragana is the kanji, which has a relatively small number of strokes, such as "moon," "light," "heart," and "flower." Mr. Paul of the Solomon Islands requested to the teacher, "I studied at Okayama University in Japan, so I want to write the word "mountain" in Okayama." We will write a special model and carry an unfamiliar brush.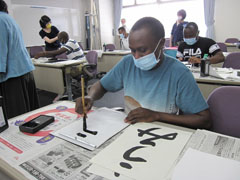 First brush while looking at the model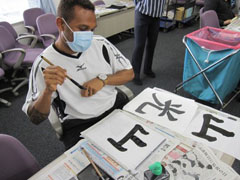 "Mountain" at Okayama University
The last kanji is "love"
As they gradually became more accustomed to brushstrokes, their facial expressions unraveled and they were able to enjoy themselves by writing their names in katakana. "In Rwanda, I draw with a brush, but I don't write, so it's a whole new experience and it's a lot of fun," says Mr.Emmanuel from Rwanda.
The last example is "love". LOVE... The number of strokes is remarkably large, but everyone tried many times.
Lesotho's "light"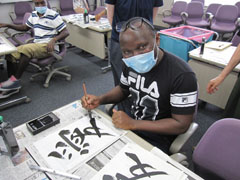 Rwanda's "love"
Entrance to Japanese culture
Although it was a short time, I think that the participants felt the charm of traditional Japanese calligraphy through their hands-on experience. Also, through calligraphy, it seems that they has deepened their interest in Japanese characters and Japanese.
Finally, select one of the works they wrote themselves and place it on the hanging scroll. Ms. Tilisa of Tonga chose "umi" because "calligraphy is a culture that Tonga does not have, it feels like a wave and I enjoyed writing." The original works of the participants are currently on display in the lobby.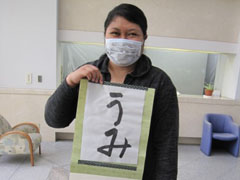 Tonga's "Sea"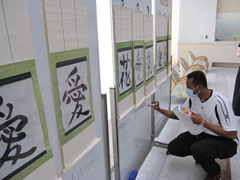 Self-signed under each work