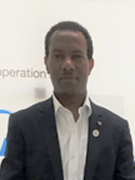 Mr. Girmay Iyassu Mekonnen
Nationality: State of Eritrea
Program Title: Master's Degree and Internship Program of the African Business Education for Youth (ABE Initiative)
University: Shimane University
Department: Graduate School of Natural Science and Technology (Master course)
Major: Science of Environmental Systems
Tell us about yourself
I am Girmay Iyassu Mekonnen, I got my bachelor degree in Earth Science in 2005 since then I had been assigned in Ministry of Energy and Mines, and I was working as exploration geologist with different companies, such as governmental and foreign international companies. Later in 2018, I had got the opportunity to study masters that is the Africa Business Education Initiative scholarship (ABE initiative) in Japan. I had chosen to study in Japan because it is a well-developed country in terms of efficient industries, advanced technologies and it has top class universities. It is also known that Japan plays the primary leading role in environmental and sustainability issues globally. I had believed strongly that I could benefit a lot from Japanese universities. And hence I successfully accomplished my dream getting graduated in Master of Science degree, majoring in environmental geology from Shimane University in 25 September 2020. Now, I am very much optimistic to fulfill the duties and responsibilities I have for my country, and to bridge the Japan industries regarding the business opportunities with my country and Africa mainly in mining, energy and environmental sectors.
Where did you come from? What is your country like?
I came from Eritrea, a country located in East Africa. It is bounded by Sudan in the west, Ethiopia in the south, Djibouti in the south east and the Red Sea in the East. It is situated in the strategic zone of the Red Sea basin, the trade route amongst the western countries, Asia and Africa. It is a young state which had got its independence in 1991 after fighting for 30 years of deadly war for liberation. It has a land area of 124,000 square kilometers; with 1200km coastal line, 350 islands and numerous marine creatures with unpolluted marine water.
Topographically the country is consisting of the eastern lowlands along Red Sea Coast, the central highlands and the western lowlands ranging 120m below sea level to 2500m above sea level.
The rainfall in the country is short and erratic by which the mean annual rain fall ranges below 400mm in the lowland whereas the highlands receives from 500mm to 1000mm.
The population of Eritrea reaches about 5 million, which contains 9 ethnic groups with 9 different languages. Tigrinya and Tigre are the dominant ones, Arabic is spoken in the lowlands and English is used for business and as medium in education. There are two main religions Christian and Islam which live in peace and harmony, they celebrate all the national and religious holidays together in a proud and exiting manners.
People in Eritrea work hard, believe and trust other people, and are very supportive.
Regarding to natural resources, it contains huge world class deposits like the Bisha and Asmara volcanogenic massive sulphides which carries gold, copper and Zinc, oregenic gold and potash (200 years mine life) deposits. There are several proven resources under exploration stages and plus vast unexplored promising areas are available.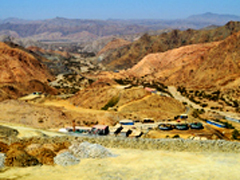 Zara Mine Northern Eritrea
There are active volcanic areas mainly in southeastern region like the recently erupted the Nabbro volcanic similarly along the coastal areas there are abundant fumaroles and hot springs with high geothermal potential. Not only that the raw materials for cement like the limestone, gypsum and kaolin are numerous.
In case of mine, I was born and raised in Debarwa, a town which is known for it had been an ancient capital city and its copper mineral occurrence and is located about 30 km south of the capital. I would like to mention few words about Debarwa and its connection to the early stages of the Japanese mining company and its business associations. It is a place where the first modern mining was established in our country in the mid of 1970s by NIPPON copper mining of Japan after the Italians.
What is a traditional food in Eritrea ?
Injera with mutton is one of our traditional food.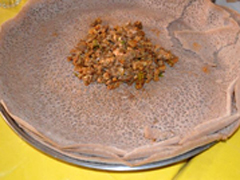 Injera
How was your life in Japan?
I have been in Japan for 2 years. I had visited places like Tokyo, Hiroshima, Matsue, Izumo (Tatara mining), Iwami Ginzan, Sakaiminato, Yonago, Osaka etc.
The city that I had stayed the most was Matsue. It is very calm, peaceful, beautiful and historical city, the Matsue castle is located at the center. I think it was one of the founding places of Japan prehistory aligning with Izumo. I went to Shimane University, it has adequate laboratories, I met helpful professors, and it is convenient place to study mainly in geological aspects if I am going to come again I would like to come to that University for sure. In this case, I would like to thank to all the professors of Shimane, and friends.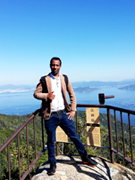 Mt. Misen of Miyajima (Hiroshima)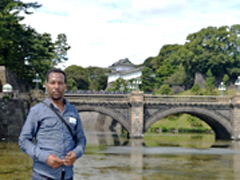 Tokyo imperial house
Have you ever experienced a culture shock?
As a matter of fact the Japanese culture is different regarding to hand shaking, hugging and the chopsticks for eating. At the beginning, I struggled in using chopsticks later I was able to use and habituated to it. As a cultural shock I can say it didn't took me much time to associate because before coming to Japan I had learned a lot by watching the NHK world. Another thing is, I had spent most of my time with the Japanese friends of my lab in that we built strong relationship talking, and discussing. Meeting them made my life so simple in Japan. In that aspect, nothing had shocked me as far as I understand.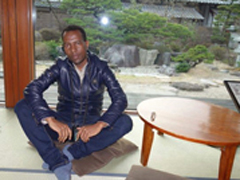 Matsue Museum (Shimane)
What is your favorite Japanese food?
I have tried many of the Japanese foods, the rice beef curry seems very nice to me apart from that the different type of sea foods, like the fried fish and crab are also the best.
I ate steamed crab at Sakaiminato in Tottori for the first time in my life. It was very delicious and it was very surprised at it. Some people in Eritrea eat crabs, but for me it look like scorpion, so I had never tried to eat it in Eritrea.
What was the most impressive event in Japan?
The most impressive event if I remember it very well, it was in JICA Tokyo. It says "Japan rises from Ashes", I think it was a lecture given about the history of Japan. This was a very big message to me, understanding what difficulties Japan had met and later how it overcomes with short period of time to become one of the giant leader of the world's economy.
The same history has happened to my country except the methods and timing were different. This is the very positive and encouraging lesson how our people must dedicate to reach the stage where Japan has reached, mainly to focus on technology.
Who is the most impressive person that you met in Japan, and why?
There are so many impressive Japanese but if you say the most impressive person for me is one of my professors at Shimane University. He is very supportive, motivational, positive, and knowledgeable. I don't have enough words that could explain him, he dedicated his time and energy abundantly in transferring his knowledge. It was not only for me I saw him with all of us that is his passion. At this time I can use this opportunity to thank Japan for giving me the opportunity to meet with such kind of brilliant sensei.
Is there anything you want to tell Japanese people?
I would like to say "Dan Dan" to the loving and caring Japanese people. "Dan Dan" is my favorite Japanese word and it is Izumo dialect similar to arigato.Similarly to my Japanese professors and friends it is hard to say sayonara but it's time to say, with all my respect good bye. I will dedicate fully to elevate the business ties among our countries to its highest level. At last but not least I would like to thank to JICA and JICE.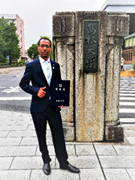 Shimane University main gate