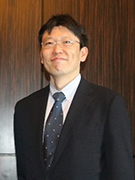 I'm KATO Ken, Chief Representative of JICA Egypt Office.
As Egyptian saying indicates that "Once you drink from the Nile, you will come back again," I had the chance to work in Egypt from 2002 to 2003, I am happy to come back as Chief Representative of JICA Egypt Office to make efforts to contribute to socioeconomic development of Egypt and deepening partnerships between Egypt and Japan.
JICA, or Japan International Cooperation Agency, is one of the world's largest bilateral development agencies with its objective to promote international cooperation as well as the sound development of global economy. Our portfolio of cooperation with Egypt is very rich totaling more than $ 9 billion including technical cooperation, soft finance, grants, volunteer program, triangular cooperation and others in an integrated manner.
Egypt and Japan have enjoyed a long-lasting friendship. Back in the 1860s, a samurai diplomatic mission to Europe passed through Egypt and deeply impressed with Egyptian modernization and traditions. Egypt remains an important country in the Middle East and North Africa, and across the world.
JICA has built a strong relationship over decades. Our partnership began with a technical cooperation project in 1954, followed by an ODA loan to expand the Suez Canal in the 1970s. Since then, we have also worked together in the transportation, energy, health, agriculture, education, tourism and cultural sectors.
Through the exchange of visit between then Prime Minister ABE Shinzo and H.E President Abdel-Fatah El-Sisi in 2015 and 2016, the bilateral relations between Japan and Egypt has been even strengthened and witnessed great achievements towards enhancing the cooperation on education, human and cultural exchange as well as on the sustainable and inclusive economic and social development.
We have a number of flagship projects such as Grand Egyptian Museum (GEM), Cairo Metro Line No. 4, Al-Salam Bridge, the Abul Reesh Pediatric Hospital, Cairo Opera House, Borg Al Arab International Airport, Egypt Japan Schools and Egypt-Japan University of Science and Technology, to name a few.
Our cooperation aims at contributing to global agenda as well as regional agenda through partnership with Egypt. In 2022, COP 27 will be hosted by Egypt and we extend our support in the field of energy efficiency and conservation and plastic waste management. Also, 8th round of Tokyo International Conference on African Development (TICAD8) is going to be held in 2022. JICA is contributing to the development of Africa through Third Country Training Program and E-JUST receiving 150 scholarship students who will lead science, technology and innovation.
Also, human security is a keyword for JICA's cooperation. Universal Health Coverage is a concept that JICA is supporting Egyptian government initiative to protect the vulnerable people from financial difficulties to have an access to healthcare services. We also support People with Disabilities for the use of highly advanced Digital Accessible Information System (DAISY). To bring up youth for a future, JICA cooperates through comprehensive support for Education sector under Egypt-Japan Education Partnership.
Finally, our partnership is being diversified to achieve Sustainable Development Goals (SDGs) in together with Egyptian partners. We enhance collaboration with private sectors including startup collaboration and investment finance project. Also, more than 300 volunteers since 1996 with diverse skills. During COVID 19, we partnered with NGO for awareness campaign.
We will continue to deepen our cooperation through realization of inclusive and sustainable development. I again would like to express my great pleasure and honor for myself being assigned for this position, and looking forward to contributing to Egypt.
March 2022
KATO Ken
Chief Representative
JICA Egypt Office