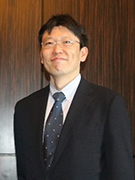 I'm OMURA Yoshifumi, Chief Representative of JICA Egypt Office. It is my pleasure that you reached our page.
Japan and Egypt have always enjoyed strong relations as the Japanese government considers Egypt as a great nation, located at a significant point geographically and politically, linking the Middle East, Africa and Europe. Therefore, Japan regards these bilateral relations as the axis of its diplomacy in the region. These bilateral relations have steadily developed through increased political, economic, and cultural exchanges between the two countries.
Prime Minister ABE Shinzo visited Egypt in January 2015 and President Abdel-Fatah El-Sisi visited Japan in February 2016. Since then, the bilateral relations between Japan and Egypt witnessed great achievements towards enhancing the cooperation on education, human and cultural exchange as well as on the sustainable and comprehensive economic and social development, after Egypt has faced challenges such as political anxiety and economic stagnation since 2011 due to the democratization movement under Arab Spring.
Japan and JICA have been continuously cooperating with Egypt since the 1970s. For example; we have supported development of infrastructure such as, Suez Canal Bridge, Zaafarana Wind Power Plant, Assiut Thermal Power Station, Cairo University Specialized Pediatric Hospital, Water Treatment Plants in Giza and Fayoum governorates.
Nowadays, we support Grand Egyptian Museum, Borg Al Arab International Airport, Cairo Metro Line No. 4 and Dairot's New Group of Regulators. In addition, we also work on human development in the education sector through the Egypt Japan Education Partnership Initiative that includes the Egyptian Japanese schools and the Egypt-Japan University of Science and Technology (E-JUST), besides other various sectors such as agriculture and health. Moreover, we cooperate with Egypt to implement training for third countries in Africa and Middle East.
We will continue to deepen our cooperation through realization of inclusive and sustainable development, poverty reduction, enhancement of living standard, human resources development and public sector reform, and to contribute to Egyptian development through the discussion with Egyptian Government and development partners.
We highly appreciate your support to make it come true.