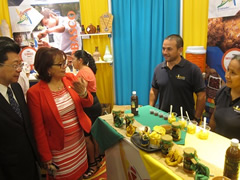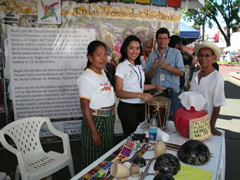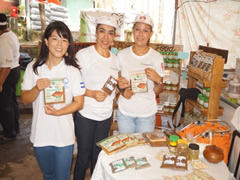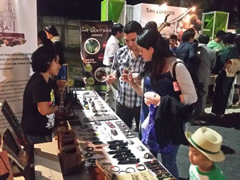 Project Title
Advisor for One Village One Product (OVOP) Movement
Subject
Private Sector Development
Date of R/D Signed
N/A
Project Site
N/A
Term of Cooperation
2012/11/1 – 2017/2/28
Implementing Organization
National Commission of Micro, Small and Medium Enterprise (CONAMYPE)
Background
One Village One Product (OVOP) is a development strategy through stimulating local economy. The National Comission of Micro, Small, and Medium Enterprise (CONAMYPE) has been working on the OVOP Movement to stimulate local economy over 75 municipalities, and continuing to extend to 100 municipalities in El Salvador at country level. In this effort, JICA has sent Experts since November, 2012 and has focused on human resource development, especially for the CONAMYPE staffs and local actors. Within the CONAMYPE, Direction of One Village One Product has been established and also the Public Policy on OVOP has been elaborated. In addition, all the measures are promoted on institutionalizing tools to strengthen OVOP Movement, such as Guideline on Implementing Strategy and OVOP El Salvador National Branding. Moreover, in local activities, various assistances have been implemented such as technical exchange of good practices and visits among municipalities, elaboration of periodical OVOP journals, technical advises on enterprise management, marketing support through realization of antenna-shop, local festivals, etc.
Outline of the Project
Based on the measures on OVOP (FY2012-FY2016) mentioned above, CONAMYPE has applied to JICA for an expert on OVOP Movement to consolidate all the work as OVOP Movement El Salvador through assessing and analyzing the social-economic impacts on local economy and people in order to establish the local branding mechanism. In particular, in establishing local branding mechanisms, the local products such as agricultural and artisanal products and other measure such as local tourism can be recognized through the logo of OVOP as products for sale in local area. In addition, it is important to take the work of OVOP Movement into account for visualizing the local names and local foment. In this regard, national public entities in various sectors such as agriculture and tourism and local government will be coordinated by CONAMYPE based on the National Policy on One Village One Product in order to strengthen the mechanism of incentives to accelerate the local branding measures as a whole.
Purpose
Overall goal
Strengthen the sustainability and identity of One Village One Product (OVOP) Movement of El Salvador to stimulate Social Economic Development
Project Purpose
Consolidate One Village One Product (OVOP) Movement in El Salvador
Outputs
Sistematize the Local Branding (Orientation for qualification for use of the brand)
Mechanism of Social Economic Impact Assessment and of the Information Divulgation to verify the developed interventions through OVOP Movement
Gathering information on experiences and data of OVOP El Salvador to integrate them into the Transfer Guideline
Strengthening the visibility and positioning of OVOP El Salvador
Project Activities
| | |
| --- | --- |
| 1-1 | Design a strategy proposal of Local Branding with the involved institutions and National network with the suppor of the OVOP Comittes to qualificate the use of the brand |
| 1-2 | Give orientation on the methodologic strategy of the Local Branding to the local actors (companies, public and private institutions) |
| 1-3 | Facilitate the implementation of Local Branding strategy for promotion and positioning. |
| | |
| --- | --- |
| 2-1 | Define the mechanism of indicators and Social-Economic Impact Assessment, and of Information distribution of OVOP |
| 2-2 | Socialize the mechanism to the local actors. |
| 2-3 | Implement the Social-Economic Impoact Assessment and of the information distribution in strategic comittees with the support of the technical staffs related to local conomic development in each regional level and national level |
| 2-4 | Gather and analyse the data of the assessment to integrate them into technical assessment |
| | |
| --- | --- |
| 3-1 | Analyse all the experiences and lessons learned through the implementation of the Local Branding and Social-Economic Impact Assessment. |
| 3-2 | Facilitate and orient the elaboration of the instruments (manuals, formats, regulations, etc.0 for the transfererence of Local Branding strategiy and Social-Economic Impact Assessment. |
| | |
| --- | --- |
| 4-1 | Facilitate and distribution of information through the developed activities and expanded locally through the activity plan to realize the National Network and the comittes at national level. |
| 4-2 | Gather and anlyze the experiences and god practices of OVOP Movement to establish the platform of pubulicities such as opening a website and SNS. |
Inputs
Inputs Summary by Japanese Side
Dispatch of Expert
Materials
Input Summary by El Salvador Side
Counterparts
Local Cost
Project Office