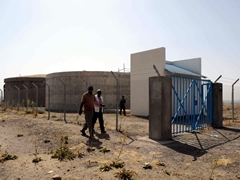 The town of Dbarwa with a population of about 30,000 inhabitants lies saddled between rugged hills about one hour drive southwest of Asmara. Like most of Eritrea, it's dry and no permanently flowing rivers traverse the area. And although most of the people are farmers and keep livestock in the outskirts of the city, water is scarce. Supply was from boreholes and the water was pumped to a central water tank and supplied through gravity to the residents. Unfortunately due to rising population, this water had not been enough for the residents until Japan, through JICA, assisted by drilling five more boreholes for the town and all yielded clean water.
Before this, water was supplied with tankers to some of the residents because the boreholes could not supply enough. Today it is available to all the residents through permanent pipes and is chlorinated before dispatch to make it safe to all the consumers. This has greatly improved the health of the residents of the town and provided sufficient water to their livestock. JICA also constructed extra storage tanks so that there are sufficient quantities all the time. Modern pumping equipment was also installed in all the boreholes and this has enabled the pumps to operate throughout the year.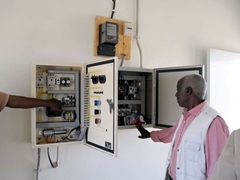 JICA has also sunk similar boreholes at Dekenmhare town, 40 kms southeast of Asmara. Here water is pumped to a modern storage tank, also built by JICA, up the hill before flowing by gravity to 75,000 residents of the town. Demand for water is high in this fast growing town which has many satellite villages, factories, health facilities and schools.
Ghebru Ghebremical, who is the head of water supply in the town says more than 80,000 people now benefit from the water project in the town . "We are most grateful to JICA for its contribution in rebuilding water supply to this town which had been devastated during the war. Before this assistance, there were only four boreholes and this strained water supply to the residents and jeopardized their health," he said.
The water project is intended to improve safe water supply and sanitary conditions in not only Dbarwa and Dekemhare, but also Mai-Dima and Adi-Keih towns by developing groundwater resources and building water distribution points. The project aims at raising water supply ratio from 22 percent in 2007 to 100 per cent in 2015.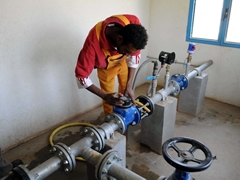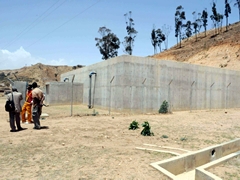 Some of the facilities and boreholes which have been constructed with JICA assistance in Debub region of Eritrea.