Federated States of Micronesia (FSM) was mandated territory of Japan since World War I until the end of World War II.
After the end of World War II, FSM was administered by the USA under international trusteeship system of the United Nations until 1986 and was independent in 1986 along with entering into a Compact of the Free Association with the USA.
FSM is recognized as one of important partners in Japan, by the several reasons such that relatively a lot of Japanese ancestries are living caused by the historical relationship, FSM people are friendly toward Japan and a large number of Japanese fisheries vessels are operating in the broad exclusive economic zone holding huge fisheries resource under the Fisheries Agreement.
Therefore the Government of Japan has been inviting pacific islands leaders every 3 years to Japan since 1997 to hold 'Pacific Islands Leaders Meetings' in order to discuss solutions for the typical issues of island countries. And the result of the meetings are reflected to the assistance polices.
Although FSM is independent country, country defense is commissioning to USA. And more than 40% of the national budget is supported in return under the Compact of the Free Association with USA.
Furthermore, more than 60% of the national budget is supported by the foreign countries.
FSM is facing urgent issues to solve in order to become financially independent from Compact because the financial support from the USA is supposed to end by 2023. Adding to this issue, FSM also has the typical island country's issues such as remoting from international market, spreading geographically in broad area and small domestic market.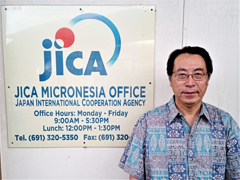 Landfill site in Pohnpei, assisted by J-PRISM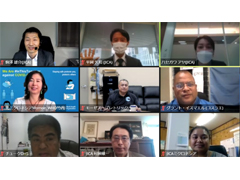 Vessel funded by Gran Aid assistance
JICA Micronesia Office is setting the prioritized cooperation area to (1)Overcoming vulnerability and (2)Environment/Climate change, and is making effort to hold the organic linkage among JICA's scheme such as dispatching volunteers, acceptance of Technical Training participant, technical cooperation project and grant aid.
The Exchange of Note for grant aid project 'The Project for Power Sector Improvement for the State of Kosrae in FSM' was signed in April, 2016 and New technical cooperation project 'Technical Cooperation Project for Introduction of Hybrid Power Generation System in Pacific Island Countries' and 'Japanese Technical Cooperation Project for the Promotion of Regional Initiative on Solid Waste Management in Pacific Island Countries PhaseII(J-PRISM II)' will commence at the end of 2016. We are expecting that serious situation of FSM will be improved by the synergy effect between those technical cooperation projects and the other scheme.
JICA MICRONESIA
Resident Representative
SHIBATA SHINJI