The purpose of the Regional Development Program initiated by JICA in collaboration with Ministry of Agriculture, Entrepreneurship Development Agency, Georgian National Tourism Administration is to address development issues of rural agriculture and tourism, growth and internationalization of Georgian Micro and SMEs (Small Medium - sized Enterprise) through providing technical cooperation in a stepwise approach. The program consists of workshops in Georgia (Samtskhe-Javakheti, Racha,Kakheti), training program in Japan, follow-up activities, business matching and related research activities. The captioned training Course is a part of this Regional Development Program.
Period
September 29 to October 23, 2015 (to be continued in 2016)
Background
Government of Georgia puts an importance on fostering businesses in rural areas, exploring new business opportunities, enhancing competitiveness in domestic as well as global market by mobilizing foreign experience and investment. Government of Georgia requested for technical cooperation in the field of Agriculture, utilizing Japanese OVOP (One Village One Product) experience. Tourism development support was requested as well. Japan-Georgia business targeting support (sending Japanese private companies to Georgia) was conducted in Oct. 2014. Result of Business discussions, including Agribusiness were shared among parties concerned and more Japanese entities are showing interest in Georgian market and seeking close relationship with Georgia. Development of Agriculture, Tourism and SME promotion is one of the priority areas of Japan's assistance policy for Georgia.
Current Issues JICA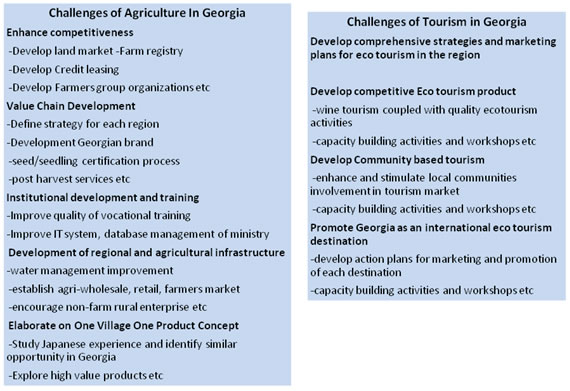 About "Regional Development Program"
Overall Goal
Economic growth in rural area by improving and creating sustainable local businesses model
Objectives
Introduce One Village One Product concept and practice of Japan to Georgian stakeholders
Discuss with Georgian counterpart about Georgian specific OVOP concept, method of its dissemination.
Assist Georgian counterpart in conducting technical cooperation to local farmer's group/SMEs in product/service planning, branding, marketing method etc.
Network development with Japanese municipalities/communities/SMEs (popular tourist site with special product/services (wine tourism, spa resort, agribusiness))
Promote private businesses of Georgian and Japanese SMEs contributing rural development in Georgia.
Project Activities