Activities in Ghana
Grant Aid for Rural Electrification – Phase II
Background and Objective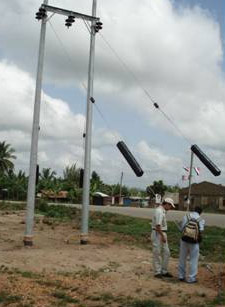 As part of the National Electrification Scheme (NES), the Rural Electrification project aims to electrify Upper Denkyira District, a major cacao-producing area in the Central Region, thereby reducing poverty and urban-rural economic disparities.
Exchange of Notes signed on: August 21, 2007
Grant Limit: 410 million yen
Executing Agency: Ministry of Energy
Project Summary
The NES targets to achieve a household electrification rate 70% by 2020. Following to West Akim District in the Eastern Region (the project completed in 2008), NES work is now proceeding in Upper Denkyira District. The primary purpose is to procure and install electrical distribution equipment and materials to extend existing power lines. Electric poles are being erected along a 50-kilometer route passing through villages surrounded by cacao farms and rain forests. The line work is now in progress and expected to be done by February 2009.
Project Highlights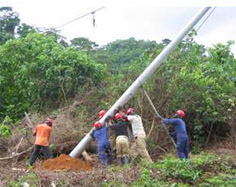 For this project, steel is used as the electric poles instead of wood because it can better withstand open burning practices. The necessary technology is transferred through on-the-job training as well. As the electrical lines are the first time connected among the 16 villages in Upper Denkyira District, the once-scattered communities will be provided with an improved living environment and new economic activities.