Accra. 14th February, 2020. As part of bringing Kaizen related services to the doorstep of female entrepreneurs in Ghana, JICA Ghana office in collaboration with the National Board for Small Scale Industries (NBSSI) organized the "Kaizen Conference for Women 2020", entitled "Kaizen as a tool for women's Economic Empowerment," in Accra, Ghana at the Best Western Premier Hotel.
The conference brought together key stakeholders, (public, private sector, academia and civil society), to learn about the impact of Kaizen on women-owned enterprises, share experiences and knowledge in Kaizen and also show case their products in a mini-fair.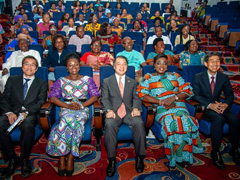 More than 125 people participated in the conference with various sector which showed the high level of interest in the platform (venue: Best Western Premier Hotel, Accra)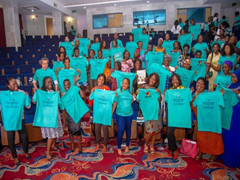 Over 40 women entrepreneurs exhibiting satisfaction from the highlights learned and shared during conference
Key officials that honoured the event were:
Mr. ARAKI Yasumichi (Chief Representative of JICA Ghana), Hon. Freda Prempeh(Deputy Minister of Gender, Children and Social Protection), H.E. HIMENO Tsutomu (Ambassador of Japan to Ghana), Mrs. Kosi Yankey Ayeh (Executive Director of National Board Small Scale Industries,NBSSI).
Notably, the event hosted numerous women leaders and entrepreneurs from various sectors and backgrounds. In all, over 125 people participated in the event.
Ghana has one of the largest population of women entrepreneurs in the world hence it is imperative to share the Japanese knowledge of Kaizen with African Female Entrepreneurs through this Conference.
The Conference gave women leaders and entrepreneurs the opportunity to share creative ideas and to ponder on ways they could be economically empowered using lessons learned from Kaizen practice. It was also an opportunity to showcase the universality of Kaizen in other sectors such as health and education, where representative women leaders in civil service and health sector shared their experiences.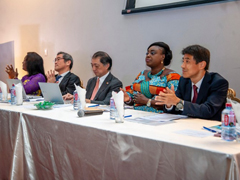 High-level delegates concurring with presentation on progress of Kaizen implementation in Ghana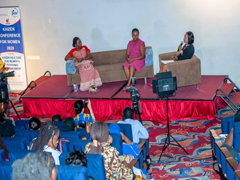 Panel discussions from different sectors in health, business and education sharing how Kaizen is applicable in every area of our livelihoods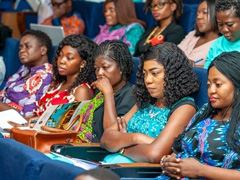 Female Business Advisors from NBSSI listening keenly on experiences of Kaizen practice shared by panel guests.
Kaizen is a system of practical methods and mindset orientation to improve productivity and product/service quality, reduce waste, improve profitability and help manage time, through bottom-up continuous improvement activities at the workplace.
As the main counterpart of JICA Ghana's Kaizen projects since 2012, the Executive Director of NBSSI, Mrs. Kosi Yankey Ayeh mentioned that "NBSSI identifies KAIZEN as one of its key Business Development tools that has enhanced women-owned businesses here in Ghana. Accelerator tools such as KAIZEN Model can increase productivity and profit as well as reduce costs.
Currently, KAIZEN-related services can be accessed in the Business Advisory Centers (BACs) in all the Regions of Ghana. Although females dominate the MSME Sector, female entrepreneurship still remains at the micro and small-scale level due to several reasons including inadequate mentorship and practicable training programs amongst others.
The JICA Ghana Office recognizes the significant role of women entrepreneurs in national development. It recognizes the importance of "Women Empowerment and Economic Opportunities for Women" under the Ghana National Gender Policy and contributes significantly to SDGS 5,8,9 and 17.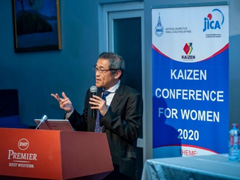 Mr. JIN explaining to participants about the African Kaizen Initiative
Mr. JIN Kimiaki, the representative from the African Kaizen Initiative(AKI), stated that the Initiative was created to promote Kaizen activities in Africa, and largely concentrated on policy, advocacy, standardization, information and communication sharing.
The call for action in his opening remarks were:
The need to introduce Kaizen in other sectors such as education, health, agriculture etc.
Government should continue to support the promotion of Kaizen as a tool to economic development
The philosophy of Kaizen should be embraced by all
Beneficiaries of Kaizen should spread the concept to others in particularly, MSMEs
The Chief Representative for the Ghana office stated that the collaboration with NBSSI to support MSMEs had been productive and profitable. He announced that JICA was in the process of developing another Project with NBSSI to be known as the Enterprise Development Project with KAIZEN (2020-2025).
The project was meant to build the capacity of NBSSI to operationalize a mandate for MSME development support in order to create an eco-system for enterprise growth and promotion in Ghana.
On his part, the Japanese Ambassador to Ghana, indicated that the Government and the People of Japan were pleased with the progress of work in relation to Kaizen in Ghana. He stated that "Kaizen is a mindset, it permeates through every facet of our lives, whether business, family, friends etc. it doesn't involve the use of any expensive set of machines but is very valuable". He pledged the support of his Government in the provision of support to Kaizen activities in Ghana.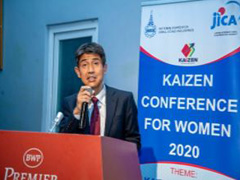 Mr. ARAKI of JICA Ghana office addressing conference guests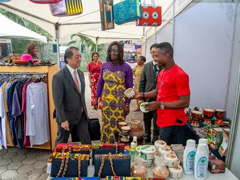 H.E HIMENO touring the mini-fair by Kaizen entrepreneur beneficiaries
In her keynote address, the Deputy Minister of Gender and Social Protection, commended JICA and NBSSI for the Conference in gathering women entrepreneurs together to celebrate the successes achieved in the implementation of Kaizen in their businesses.
She again commended NBSSI and JICA for their efforts towards women empowerment in Ghana and urged all present to take advantage of the Conference by creating networks with other people.
The Deputy Minister made the following calls to action;
NBSSI should step up on their communication and PR to ensure that more women benefit from services being rendered
A lot of education should be provided to women in relation to accessing BDS
JICA should support the Ministry of Gender & Social Protection to create awareness of existing interventions for the empowerment of women
Panel Discussions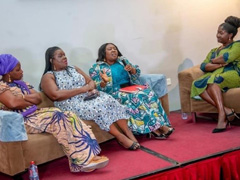 Panel Discussions on how Kaizen has been a catalyst for women businesses
"Can KAIZEN be a catalyst for women's economic empowerment"?
This session explored the roles and opportunities Kaizen could play in the economic empowerment of women.
The common response of the panelists was that Kaizen had been very beneficial to their enterprises in areas such as reducing time used in searching for items, efficient use of working capital, cutting waste of raw materials, etc. Kaizen had catalyzed business in the following areas: Reorganizing of Processing Section, Motivation for Employees, Work Ethics and Elimination of Chaos.
'Applying Kaizen everywhere''. Can we include Kaizen in our daily lives?
Kaizen is a way of life and it is applicable everywhere including our daily lives.
Responses included '5 S KAIZEN' implementation in the health sector had improved quality of health care and strengthened the flow of systems.
The panel member from the Civil Service also shared experiences with regards to the introduction of KAIZEN in the training school which is having significant effect on the performance of personnel who came for training and promotional interviews.
GROUP DISCUSSIONS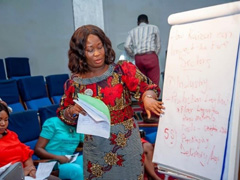 A facilitator conducting break out session for participants
There was a breakout session for a comprehensive discussion on the selected KAIZEN related topics. A total of four (4) groups were formed to deliberate on the following topics:
Continuous improvement for today's Female Entrepreneur- How do we encourage the use of Kaizen at all levels of enterprise growth?
Understanding the current needs of women in five (5) sectors discussed and how Kaizen can make an impact. (industry, Health, Education, Governance and Agric sector)
If Kaizen is a way of life, how can it be incorporated in our developmental agenda?
Kaizen for start-ups, how early should the young entrepreneur adopt Kaizen the creation and operation of an enterprise?
TOUR OF MINI EXHIBITION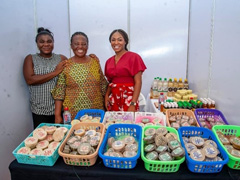 A Kaizen beneficiary exhibiting improved versions of her packaged organic soap. The new package attracted a new big client- The Best Western Premier Hotel- conference host!
There was a mini exhibition, which saw a display of finished products from entrepreneurs. The participants at the conference toured round the various stands to identify with the products on display.
Kaizen Beneficiaries who exhibited were able to acquire orders and make sales from new clients from the hotel and conference.