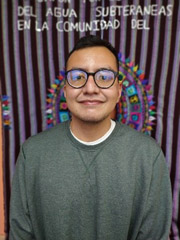 Greetings everyone! My name is Julio Morales, I'm an undergraduate student in International Affairs from Universidad de San Carlos in Guatemala. Last year (2020) despite the difficulties caused by the COVID-19 World Pandemic, I had the opportunity to conduct the Supervised Professional Exercise (known in Spanish as EPS) in JICA Guatemala office.
EPS is an activity similar to the internship in Japan, where students perform work activities without remuneration in prestigious institutions around the country in exchange for obtaining field experience. The work that JICA carries out in Guatemala is highly appreciated by its local counterparts and the target audience that benefits from the implementation of projects, the improvement of living conditions and the progressive increase in the level of local development; this is the main reason why I was excited to be able to participate in the institution.
With the propagation of coronavirus infectious decease the Guatemala Office was very busy providing emergency assistance and maintaining the regular workflow, in addition, as this was the first time in the office history to receive an intern, the challenges were great and there was a lot of work to do. I was able to familiarize myself with the way in which JICA operates in its offices abroad while collaborating with various projects. However, my work was mainly focused towards Public Relations, where I worked in the formulation of collaborative projects with municipal governments and non-governmental institutions, with the objective of integrating local communities with the activities led by JICA under the aegis of technical and financial cooperation.
I collaborated in the process of design and preparation of the 2021 calendar of JICA Guatemala office, this was the product of an initiative on the office's Facebook page, we collected drawings sent by followers by the topic of "Cultural Integration between Guatemala and Japan", in conjunction with photographs of the office's activities and projects we brought the calendar pages to life. I participated in the production and recording of the video for the audiovisual joint project between JICA and NHK, a choreography of the popular Japanese song Paprika performed by children from all over the world, the video was broadcast on the program Mina no Uta, through NHK World; the video had a positive reception and was selected to appear on NHK World's Songs of Tokyo Festival [2020] program as well.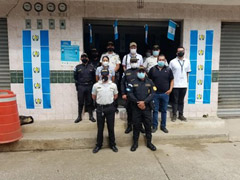 Monitoring at the Project site (Community police project)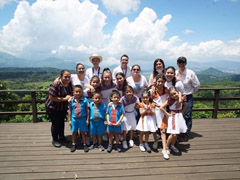 Filming the video "Dance of Paprika" collaborated with NHK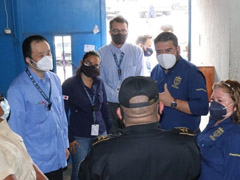 Selection of project sites for Community Police Project