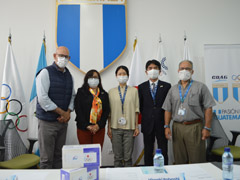 Hello everyone! My name is Chika Sunako, Volunteer Coordinator (VC) of Japan Overseas Cooperation Volunteers. I arrived at Guatemala in March 2021. It'a pleasure to greet you.
Guatemala is the country that I visited on my first travel alone when I was a university student. The Antigua city with a view of volcanos, colorful traditional costumes, a lively market, delicious typical foods such as Jocón, the Mayan and Spanish languages...
Everything I found in Guatemala was very impressive and I still remember it clearly. It was an unforgettable trip for me as I had been interested in the culture of Latin America for a long time. Guatemala gave me many opportunities and I wanted to know more about those countries.
After this travel, I visited several countries in this region when I had long vacations of the university. As I was inspired by culture and values or points of view that were very different from those of Japan where I had grown up, I felt a very strong connection that we lived together in the same world at the same time. It was the first experience I felt that I lived not only in Japan but also in the world and that I was connected to the world. This is obviously true, however I may not have recognized it if I hadn't left Japan. This experience literally expanded my world. Because I have friends in Latin America, I feel that this region is a part of me. This feeling motivated me to think that I want to improve the world with my friends of the world so that we can always feel happy.
I wanted to participate in international cooperation since I was a university student, but I couldn't do it because I thought it was impossible for me without technique or special knowledge. Knowing several people through work experience, I realized that many of them also thought that participating in international cooperation was very difficult even though they had technique, knowledge and enthusiasm. If they can feel close to the world, the connection with the world, international cooperation would not be far from them.
And having this feeling could be a first step of international cooperation. I want to connect people to the world so that they feel it. Now I can say "this is what I want to do" and this is my "international cooperation". I will not be able to accomplish anything alone, but we will achieve something if we advance together. I want to connect the Japanese volunteers (JOCV) with the people of Guatemala. I am very happy to be involved in international cooperation as VC in Guatemala where my dream began.
Due to the pandemic, none of Japanese volunteer has been unfortunately able to return to Guatemala so far. Waiting for their returns, I am working in coordination with those waiting for the volunteers.