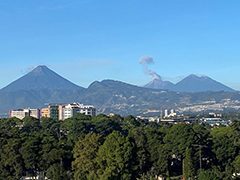 I feel displeased by the personal computer screen where the inorganic numbers line up, and when I look up through the large wall of glass in front of me. I see the appearance of the Agua volcano as Mount Fuji stretches and widens, then on the right side the Fuego volcano peeking out only with the head, the Acatenango volcano that continues to hide the timid Fuego volcano, and heals the fatigue of both my eyelids that are swollen.
Here, is the office of JICA Guatemala in Central America. This article is written by Hiroaki Itabashi, who was assigned to the Guatemala office as coordinator for the Japan Overseas Cooperation Volunteers Program (JOCV)in April of this year. I have a long experience as a volunteer coordinator, but this is the first time that I am assigned to Guatemala. Initially, I was scheduled to be assigned in July 2020, but due to the spread of the coronavirus infection, I was assigned to April 2021.
In March 2020, all the volunteers who were sent at that time and the previous Coordinator were evacuated, so when I arrived there were no volunteers; there was a sense of incongruity, but given that the JICA Guatemala office worked together to reopen the door to Japanese aid workers, in January of next year we are wait for the long-awaited first volunteer. After that, we were assigned to send two volunteers in February, four volunteers in May, seven volunteers in July, so more than 20 volunteers are scheduled to expand their activities in different parts of Guatemala in March 2023 at the end of the next fiscal year.
Since the evacuation in March 2020, it has been almost two years since no volunteers were sent, so I think we have to resume cooperation from almost zero.
Therefore, it is around this time that I am speaking with the Fuego volcano, which sometimes emits eruptive smoke, with the intention of accumulating the history of the new JICA Volunteers in Guatemala starting next year.