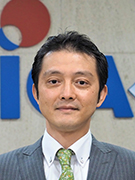 It is a privilege to be the Chief Representative of India office of Japan International Cooperation Agency (JICA).
India is one of the most rapidly advancing countries in the world, and is expected to have the highest population in some years. Very evidently India's potential as an economic powerhouse is immense, and is definitely a country which has a bearing on the stability and prosperity of the world at large.
Another aspect to be taken cognizance of is that poverty rate in India is still high, and development needs are huge.
I am looking forward to enriching experiences in India, and I sincerely would like to utilize my tenure experiences and lessons from the high growth period of Japan and from the legacy of JICA's operations in India and in other countries. Japan and India have been long time friends. I definitely see, both countries' relationship getting closer in future.
For India to achieve sustainable overall economic development, it is imperative that improvement of infrastructure such as railways, roads, power and water/sanitation are taken up on priority. Further, the manufacturing sector, which plays a pivotal role in economic growth and job creation, requires a greater impetus, and an enabling environment would facilitate a steady flow of investments.
In addition, both the Government of India and JICA are giving a fillip to inclusive development, wherein local communities actively partake of the process of and fruits of development, with due importance to environmental and social considerations. Cross sectoral issues, such as gender equity and equality, global warming and full utilization of Information & Communications Technology, are required to be addressed as well.
JICA, as the biggest bilateral donor of India, has been actively supporting economic growth, poverty reduction and environment conservation in India, through various forms of assistance including technical cooperation, concessional loan provision, grant finance provision, dispatching volunteers and partnership with the private sector. JICA has facilitated development across sectors, including in transport infrastructure, water and sanitation facilities, power availability, forest resource management, agricultural productivity, healthcare facilities and education facilities, among others.
To take further such robust foundations, JICA would continue to work with the people of India in their quest for sustainable development.
Takema Sakamoto, Chief Representative
JICA India Office
Dated: June 2015
To explore JICA's activities in India, please visit the weblink below: