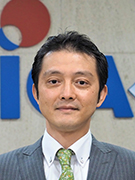 It is my pleasure to be appointed as Chief Representative of JICA India Office. I have started working in Delhi since June 15, 2018, and I am very much delighted to be here especially since I was engaged in the work related to the South Asian region up until the very last moment. In my previous assignment, I worked as Deputy Director General at the JICA Headquarters with responsibilities of JICA's operations in India.
It is noteworthy to point out that the first ODA loan from Japan was extended to India in 1958, and ever since our partnership has grown by leaps and bounds. Today, India is JICA's largest development partner, with approximately 100 ODA loans, technical cooperation and grant aid projects. There is also enhanced interest and participation of Japanese citizens in India as evident from the increase in the number of Japan Overseas Cooperation Volunteers (JOCVs) dispatched to India, as well as increased number of collaboration between JICA and the Japanese private sector in India. The areas of JICA's cooperation in India spans across sectors of transportation, including high-speed railway and metro projects, power transmission and distribution, water supply and sewerage, agriculture, health, education, environment, and disaster prevention. In addition to individual projects, JICA is also working on region-wide development agreed at the Japan-India Summit Meetings, including a corridor program spanning multiple states and improving connectivity in the North East Region of India. As friendship between India and Japan has deepened more than ever, the cooperation of both countries is expected to increase further, and JICA would continue to contribute in these endeavors.
While India is expected to become the world's fastest growing economy, in the coming future, it shall also become home to the world's largest population by 2022. In this context, development of India is expected to contribute greatly to achieving the Sustainable Development Goals. For instance, approximately 20% of the world's poverty, 30% of the world's illiteracy, and 50% of open defecation, come from India, and thus improving India's development indicators will dramatically improve the global development indicators.
JICA's cooperation frameworks contribute to the Government of India's initiatives to address these challenges. In addition, it is important to acknowledge the rich experience and initiatives of nonprofits and social enterprises in India. Some of these organizations are pioneers in various fields of development and several international organizations are paying very close attention to their innovative development approaches. I believe that improving the effectiveness of JICA's projects is essential by learning from approaches of these nonprofits and social enterprises and collaborating with them to strengthen the existing cooperation frameworks and methods. I believe that one of the important responsibilities of JICA here is to explore internationally applicable and relevant development approaches through a number of trials and errors during my tenure.
The relationship between Japan and India is upgraded to "Japan-India Special Strategic and Global Partnership" in 2014, and cooperation through official development assistance is an important part of this partnership. For this reason, JICA will make maximum efforts as a Japanese government agency so that we can further contribute to strengthening and developing bilateral relations.
On this website, you can obtain an overview of how we and various stakeholders in India collaborate. JICA India Office will continue to strengthen the bond of trust between India and Japan and engage in the development of both countries.
Katsuo Matsumoto, Chief Representative
JICA India Office
Dated: July 1, 2018
To explore JICA's activities in India, please visit the weblink below: