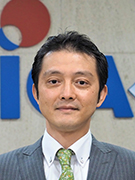 Last year COVID-19 affected every facet of life in India. The rapid spike of infections this year in February have again put the healthcare system in India under tremendous stress as hospitals and other health care centers have been stretched beyond their capacities in dealing with the rising burden of the disease. Particularly, the health facilities were highly constrained due to shortage of medical oxygen and related equipment, which led to heart-wrenching tragedies as people lost their lives due to this highly infectious disease.
In order to support India in handling the second wave, JICA dispatched oxygen concentrators on 3 occasions in the month of May as emergency assistance. These oxygen concentrators were shipped from Japan and have been deployed by Government of India in hospitals which are at the forefront of handling covid cases. Considering that vaccine rollout is imperative, JICA is also planning to support vaccine manufacturing companies in India. JICA is working under the multilateral framework of India, US, Australia, and Japan, so called Quad, to strengthen the cooperative ties for vaccine production.
The COVID-19 pandemic has brought much-needed attention to improvement of public healthcare system and strengthening of social protection architecture as critical development challenges for India. There are immediate needs for expansion of public hospitals, promotion of remote medical care system and improvement of welfare delivery system. JICA has extended cooperation in these fields through provision of ODA loans and other measures. Moreover, as personal hygiene is indispensable for preventing infectious diseases, JICA has implemented Achhi Aadat campaign (meaning "Good Habit" in Hindi) to promote proper hygienic habit of hand washing and nail cutting etc. This campaign is being sponsored by Japanese companies.
It has been almost 3 years since I was assigned to India. Back then, I asked myself a fundamental question; how do we maximize the impact of our development cooperation? In order to find answer to this question, we have been engaged in building stronger networks among domestic development entities in India. There are a variety of social enterprises, NPO and civil organizations in India, who use their ingenuity to implement effective programs catering to grassroots needs. These entities have been playing vital roles in the pandemic situation. We have been collaborating with some of these entities in the fields including tele medicine and prevention of child labour, and we will further take forward our activities.
Development of India, which is home to 1.3 billion people, makes a great impact on global society. Keeping that in mind, JICA India office is committed to contribute in tackling development challenges of the country.
MATSUMOTO Katsuo, Chief Representative
JICA India Office
May 31, 2021
To explore JICA's activities in India, please visit the weblink below: