The Japanese government offers various assistance programs to meet the diverse needs of developing countries through ODA. In International cooperation, the role of Non-Governmental Organisations (NGOs) has become increasingly more important, both in Japan and India.
Japan International Cooperation Agency (JICA) is the Japanese Government Agency for implementing development assistance in the world. The JICA India Office works in partnership with the Government of India (GOI), and supports to achieve the GOI's objectives through various JICA schemes.
NGO-JICA Japan Desk aims to facilitate effective participation of Indian NGOs and Japanese NGOs/academic institutes and local governments for JICA's social development activities in India.
THE ROLE OF NGO-JICA JAPAN DESK IN INDIA
To assist Japanese NGOs towards the implementation of JICA Partnership Program in India.
To provide information on Indian NGOs as well as the social development scenario in India.
SERVICES PROVIDED BY NGO-JICA JAPAN DESK IN INDIA
1. To support the activities of Japanese NGOs in India;
To provide information regarding rules and regulations for implementing projects in India
To provide information and assistance to Japanese NGOs that are interested in JICA's NGO schemes in India
2. To facilitate and to assist Japanese NGOs executing JICA Partnership Programme (JPP) and other JICA NGO schemes;
To support ongoing JPP projects.
To assist in formulating new JPP projects
To provide trainings and assistance for Japanese NGOs in carrying out projects in India
3. To strengthen the cooperation between Japanese citizens/organizations and Indian NGOs;
To provide information regarding NGO legislation and general information of Indian NGOs to JICA HQs, Domestic Centres and Overseas Offices
To organize seminar and workshop in order to support collaboration and partnership between Indian and Japanese NGOs
To have a consultation on any issues related to Indian NGOs.
CONTACT DETAILS
For more information and inquiries, kindly contact the NGO - JICA Japan Desk, located in JICA India Office, New Delhi. Please see contact details as below -
Organisation: Japan International Cooperation Agency (JICA India Office)
Office Address: 16th Floor, Hindustan Times House, 18-20, Kasturba Gandhi Marg, New Delhi - 110001, India
Telephone: +91-11-4909-7000
Email Id: IndiaNGOdesk@jica.go.jp
Office Timings: Monday to Friday, 09am to 01pm and 02pm to 05pm
NOTE: We are working remotely due to the pandemic situation and request you to reach out to us via the email address provided above.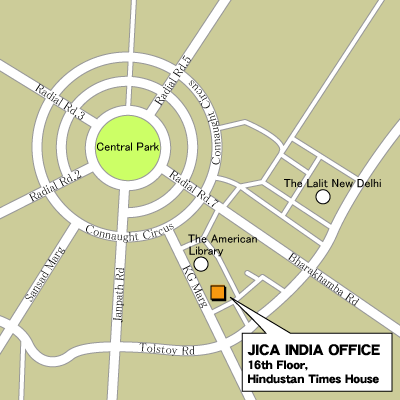 The comments in this website may not represent JICA's official opinion. Therefore JICA is not responsible for any dispute caused by the use of the information obtained from this website.