New Delhi, January 8, 2021: Japan International Cooperation Agency (JICA) has signed an agreement with the Government of India to provide an Official Development Assistance (ODA) loan of 30,000 million Japanese Yen (approximately INR 2,069 Crore) for 'The COVID-19 Crisis Response Support Loan for Social Protection'.
The objective of the project is to contain COVID-19 and mitigate adverse socioeconomic impacts in India, by extending budget support to Government of India implementing emergency response programs and policy reforms for social protection as countermeasures against the COVID-19, thereby contributing to promoting the social and economic stabilization and development efforts of India.
The ODA loan agreement was signed between Dr. C.S. Mohapatra, Additional Secretary, Department of Economic Affairs, Ministry of Finance and Mr. Katsuo Matsumoto, Chief Representative, JICA India.
Speaking on the occasion, Mr. Katsuo Matsumoto, Chief Representative, JICA India said, "The outbreak of COVID-19 has adversely affected the underprivileged and vulnerable societies in India. JICA aims to support India in its response to COVID-19 pandemic, by accelerating economic support to the government. The project aims at supporting the government in its endeavor of Pradhan Mantri Garib Kalyan Yojana (PMGKY) to empower these disadvantaged groups, whose lives have been hampered with the occurrence of the pandemic. Besides this project, JICA has extended an ODA loan of "COVID-19 Crisis Response Emergency Support" for strengthen the public healthcare system under the Prime Minister Atmanirbhar Swasth Bharat Yojana (PM-ASBY)." JICA launched "JICA's Initiative for Global Health and Medicine" last year and committed to strengthen its effort to enhance the activities in health sector.
'The COVID-19 Crisis Response Support Loan for Social Protection' has a multi-pronged approach to provide economic support, accelerate social protection, improve existing infrastructure of social protection aimed at households and workers and strengthen integrated policy initiatives in the country. The project aims to strengthen the capability of state and national governments in India to provide coordinated and adequate social protection to the poor and vulnerable from the impacts of the COVID-19 pandemic and from its future crisis. This loan aligns with loans provided by other multilateral and bilateral donor agencies such as World Bank (WB), Asian Development Bank (ADB), Agence Française de Développement (AFD) and Kreditanstalt für Wiederaufbau (KfW). DEA is the Executing Agency of the Project.
Through this project, JICA aims to partner with the Government of India in bolstering India's response to COVID-19 and fast-tracking India's recovery path.
*Exchange rate: Rs.1 = 1.45 ¥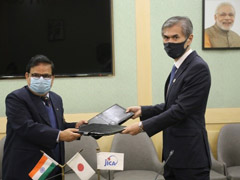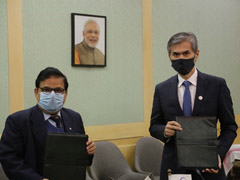 About JICA
Established, by a specific law, as an incorporated administrative institution under the Government of Japan, the Japan International Cooperation Agency (JICA) aims to contribute to the promotion of international cooperation, as a sole Japanese governmental agency in charge of ODA implementation. JICA is the world's largest bilateral donor agency. JICA works as a bridge between Japan and emerging countries, and provides assistance in forms of loan, grant and technical cooperation so that the emerging countries can strengthen their capabilities.
For further information, please contact:
JICA India Office
Shusaku Takada / Vini Sharma
+91 11 49097000
Takada.Shusaku@jica.go.jp
Sharmavini.id@jica.go.jp
Edelman India
Rakhi Aurora
+91 95990 67185
Rakhi.Aurora@edelman.com