New Delhi, May 22, 2021: Today, countries around the world celebrate the International Day for Biological Diversity. On the very date, with an increasing attention towards biodiversity, JICA India Office revealed its plan to further support biodiversity conservation. An impact study is going to be launched in June for reviewing a decade long support for Tamil Nadu Biodiversity Conservation and Greening Project ("TBGP").
JICA committed its financial support for TBGP in 2011. Back then, putting top priority on biodiversity conservation activity in a project was still a new challenge to JICA as the number of precedents had been limited. However, based on successful cases of afforestation activities covering in total 6.6 lakh hectare with 8 lakh beneficiaries wherein JICA had extended its support to the Forest Department, Government of Tamil Nadu for Tamil Nadu Afforestation Project and its Phase 2, it was decided to expand the focus on sustainable biodiversity conservation in the subsequent project.
The impact study will be implemented within 6 months, assessing the effectiveness of each project component such as wetland conservation action plans, removal of invasive alien species, species conservation plan for sea turtle, mitigation of human-wildlife conflict etc. The result of the study and key takeaways will be not only be utilized for formulation of new JICA-supported projects but shall also be widely shared with Ministry of Environment, Forest and Climate Change and Forest Department of each state through an online workshop for experience sharing and cross learning
JICA has evolved its support for forestry and natural resource management sector by synergistically incorporating the key takeaways garnered by projects implemented in the past and by flexibly catering to demands with times. Since the start of its assistance to the forestry sector in India in 1991 with a project in Rajasthan, JICA has supported 31 projects, with 28 state specific projects covering 15 states. For the last 30 years, detailed review of the past projects has been paving the way for new field of support. The first project that had main emphasis on biodiversity conservation among the JICA-supported projects in the forestry sector in India was Sikkim Biodiversity Conservation and Forest Management Project. The project also carried out a study to facilitate the designation of the Khangchendzonga National Park as a World Heritage site. In 2016, Khangchendzonga was inscribed to the UNESCO World Heritage Sites list, becoming the first "Mixed Heritage" site of India.
Speaking on the occasion, Mr. MATSUMOTO Katsuo, Chief Representative, JICA India said, "Forestry and natural resource management sector is one of the successful examples for more than 3 decades. The conservation of biodiversity is a key to increase the value of nature and people's lives. In addition, considering that the growing threat of COVID-19 has started to influence even villages, sustainable development support for rural India through Income generation and health awareness activities under forestry and NRM projects for Self Help Groups is one significant way to contribute towards mitigating the hardships of the village communities.
Japan's support to India consists of ODA loans of 270 billion Japanese Yen (approximately INR 16,300 Crore) since 1991 towards the forestry sector. The total area of afforestation activities under JICA supported projects reaches close to 3 million hectares across Gujarat, Haryana, Himachal Pradesh, Karnataka, Tamil Nadu, Nagaland, Odisha, Sikkim, Rajasthan, Uttarakhand, West Bengal, Punjab, Uttar Pradesh and Tripura.
In the foreseeable future, JICA aims to pursue projects focusing on climate change mitigation, adaption and technology upgradation which will protect and enhance India's natural resources and biodiversity.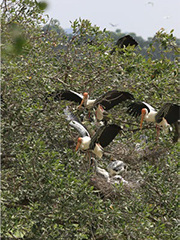 Vedanthangal Bird Sanctuary Maintained by JICA supported Tamil Nadu Biodiversity Conservation and Greening Project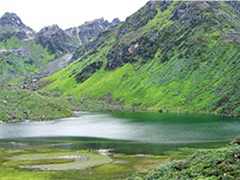 Khangchendzonga Biosphere Reserve under JICA supported Sikkim Biodiversity Conservation and Forest Management Project
About JICA
Established, by a specific law, as an incorporated administrative institution under the Government of Japan, the Japan International Cooperation Agency (JICA) aims to contribute to the promotion of international cooperation, as a sole Japanese governmental agency in charge of ODA implementation. JICA is the world's largest bilateral donor agency. JICA works as a bridge between Japan and emerging countries, and provides assistance in forms of loan, grant and technical cooperation so that the emerging countries can strengthen their capabilities.
For further information, please contact:
JICA India Office
Shusaku Takada / Vini Sharma
+91 11 49097000
Takada.Shusaku@jica.go.jp
Sharmavini.id@jica.go.jp
Edelman India
Rakhi Aurora
+91 95990 67185
Rakhi.Aurora@edelman.com