New Delhi, June 05, 2021: Today, countries around the globe celebrate World Environment Day, raising awareness and encouraging people to take measures to protect the irreplaceable natural resources on which we rely for survival. This year's World Environment Day theme 'Ecosystem restoration' echoes of how it is high time that human beings take effective steps towards reviving their environment. There has never been a more urgent need to restore ecosystems—which support all life on Earth. India has been placed among the top 10 most affected countries by climate change, in the Global Climate Risk Index 2021[1] . Japan International Cooperation Agency (JICA), through its supported projects, intends to continue to contribute to positive change by curbing greenhouse gas emissions, actively investing in clean energy, transportation and infrastructure and societies adapting to climate change are a few measures that can contribute towards Ecosystem Restoration.
Speaking on the occasion, Mr. Katsuo Matsumoto, Chief Representative, JICA India said, "Today, countries and businesses around the world are focusing on sustainability, as part of their roadmap to achieving the many ambitious goals set under the Paris Agreement. For over a decade now, India has been dedicatedly developing itself into an energy efficient nation. JICA's investments and initiatives in projects in energy, transportation, and forestry, are an important step towards helping India achieve its sustainability goals. JICA's aim is to help restore the environment so that India is capable of effectively fighting the current situation."
JICA has invested 1.3 trillion Japanese Yen (approximately INR 87,000 crore) towards metro development projects in Indian cities such as Delhi, Bengaluru, Kolkata, Chennai, Mumbai, and Ahmedabad. All 6 metro projects are supposed to contribute to curtail approximately 1.6 million tons of greenhouse gas, in total, per year. Having completed three phases of the Metro in NCR region in record time, Delhi Metro is now moving forward with the fourth phase of its expansion where water conservation will be a major focus area. During construction of underground stations, where the water table is high, some ground water has to be dewatered. Delhi Metro has tied up with Government agencies to ensure that this water is utilised properly. At Roshanara Bagh, a lake which had dried up shall be revived in association with the municipal authorities with this dewatered water. Similar, water from some other sites shall be sent to water tanks of government authorities and to a train washing facility of the Indian Railways. Since the operation of Delhi Metro, a major reduction of carbon footprint of 4.4 million tons has been reported and thereby helped in mitigation of Climate Change.
Another important aspect of the environment is the wise use and generation of energy. Japan's competence in building renewable energy systems has been aiding India's development in a sustainable and energy-efficient manner, reducing pollution from non-renewable energy sources. Currently, a total of 11.7 GW projects covering wind, solar, thermal, hydro, Cogen and storage, are successfully undertaken by IREDA with support from JICA.
The conservation of forest, flora and fauna are crucial for fixing the environment and JICA has been supporting India's forest sector since 1991. The overall area of afforestation efforts funded by JICA projects in Gujarat, Haryana, Himachal Pradesh, Karnataka, Tamil Nadu, Nagaland, Odisha, Sikkim, Rajasthan, Uttarakhand, West Bengal, Punjab, Uttar Pradesh, and Tripura is close to 3 million hectares. A recent JICA supported "Project for Community Based Forest Management and Livelihood Improvement in the State of Meghalaya" contributes in achieving the objective of "Green India Mission" under the National Action Plan on Climate Change which aims to add 5 million hectare of forest area, enhancing the quality of Forest, ecosystem restoration and agro-forestry. The project visualizes the need for integration of area specific cross cutting interventions including rejuvenation of springs/water streams, forest fire management, restoration of the degraded community forests through restoring 22,500 ha of degraded forest areas; 1,600 ha of Timber Resources (with Enrichment Plantation); 7,700 ha of Natural Vegetation, promotion of livelihood oriented forestry including medicinal plants, bamboo cultivation, reclaiming of shifting cultivation area and REDD Plus/Carbon finance pilots.
JICA has been continuously advocating and giving appropriate value-added assistance to the agencies concerned to attain protection of water resources by selecting technologies with smaller foot print. JICA assisted Rajasthan Rural Water Supply & Fluorosis Mitigation Project is located in an arid region of the Thar Desert and has a population of approximately 3.31 million. The raw water reservoir site at Nokha Daiya is an oasis in the middle of the Thar Deserts where during the summer the temperature during goes more than 50 degree. The micro climate in the region has changed, grassland in an around the reservoir due to increase soil moisture and various flora and fauna restoring the desert ecosystem and bio diversity. In the recent times the raw water reservoir area is the home for the migrated Mongolian and Siberian Crane during winter times. The project has not only providing the safe drinking water to the inhabitants of the desert region and restoring the desert ecosystem.
The underlying objective of all JICA initiatives and projects in India is to facilitate and empower its environment and grow the country's resilience to effectively tackle all catastrophes. The world can be protected from virus outbreaks in the coming future if we take a collective measures today.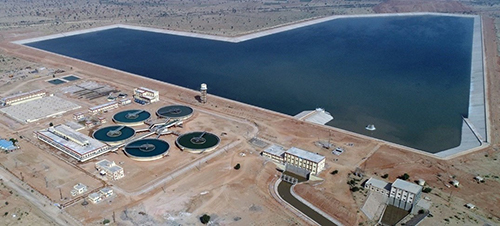 Panoramic view of raw water reservoir site at Nokha Daiya Rajasthan Rural Water Supply & Fluorosis Mitigation Project
About JICA
Established, by a specific law, as an incorporated administrative institution under the Government of Japan, the Japan International Cooperation Agency (JICA) aims to contribute to the promotion of international cooperation, as a sole Japanese governmental agency in charge of ODA implementation. JICA is the world's largest bilateral donor agency. JICA works as a bridge between Japan and emerging countries, and provides assistance in forms of loan, grant and technical cooperation so that the emerging countries can strengthen their capabilities.
For further information, please contact:
JICA India Office
Shusaku Takada / Vini Sharma
+91 11 49097000
Takada.Shusaku@jica.go.jp
Sharmavini.id@jica.go.jp
Edelman India
Rakhi Aurora
+91 95990 67185
Rakhi.Aurora@edelman.com