New Delhi, July 23, 2021: On the commencement of Olympic games Tokyo 2020, the Japan International Cooperation Agency (JICA) expresses its hope that the Indian athletes can give their best and enjoy staying in Japan as well as games.
JICA would reiterate its collaboration agreement with the Japanese Olympic Committee (JOC) to enhance contributions to international society via sports. JICA endeavors to solidify social development in India, which was highly impacted due to the pandemic through the means of sports.
The overall goal of this effort is to reassert the significance of sports' influence on human-society ties, as well as to maximize the impact of these traits for the benefit of international cooperation.
As part of its mission, JICA is carrying out projects in Sport and Development through Japan Overseas Cooperation Volunteers (JOCV), a volunteer program that supports a wide range of activities, which are intended towards facilitating cooperation in the economic and social development of societies. JICA and the JOC are cooperating in dispatching JOCVs and promoting greater dissemination of Olympian information to developing countries. India is one of the first countries where the JOCV program started in 1966 and over 200 volunteers have been dispatched to India since then.
Highlighting JICA's contributions, Mr. Matsumoto Katsuo, Chief Representative, JICA India said,"I would like to congratulate the Indian athletes on their participation in the Tokyo Olympic Games and look forward to their success. Sports are the most effective means of communicating values and contributing to the development of a more peaceful and harmonious society. JICA's mission is to promote sports around the world, in order to help build both Indian and international societies. Our JOCV program has relentlessly worked to assist India in training youth in improving swimming abilities for schoolchildren and teaching Japanese martial arts of Judo and so on, as we believe in the fundamental value of sports in social development and international cooperation."
Japan, through its "Sports for Tomorrow" initiative, has been conducting international contribution and exchange programs through sports in the way of public and private partnership. It has already promoted sports and anti-doping program to more than 10 million people in over 100 countries. Even in the midst of the global spread of coronary infections, Japan has been providing online exchanges and guidance. JICA has been one of the main organizations of this initiative.
We recognizes the significance of international sports collaboration in promoting healthy physical and mental development of the youth, along with stimulating social inclusion and unity. It seeks to make contributions towards building knowledge for better growth and development, consequently leveraging cross-country ties through collaborative learning. In the foreseeable future, JICA aims to promote sports and strengthen sports infrastructure in India by engaging in related development projects as well as conducting events that contribute highly towards the social development of the country.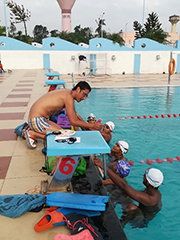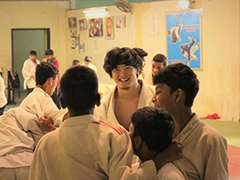 About JICA
Established, by a specific law, as an incorporated administrative institution under the Government of Japan, the Japan International Cooperation Agency (JICA) aims to contribute to the promotion of international cooperation, as a sole Japanese governmental agency in charge of ODA implementation. JICA is the world's largest bilateral donor agency. JICA works as a bridge between Japan and emerging countries, and provides assistance in forms of loan, grant and technical cooperation so that the emerging countries can strengthen their capabilities.
Press release on JICA and JOC collaboration agreement conclusion:
JICA and JOC conclude collaboration agreement: Strengthening contributions to international society through sports
For further information, please contact:
JICA India Office
Shusaku Takada / Vini Sharma
+91 11 49097000
Takada.Shusaku@jica.go.jp
Sharmavini.id@jica.go.jp
Edelman India
Rakhi Aurora
+91 95990 67185
Rakhi.Aurora@edelman.com