New Delhi, August 27, 2021: On August 25th, 2021, the Japan International Cooperation Agency (JICA) signed a $50 million loan agreement with Northern Arc Capital (NAC), an Indian financial institution, to fund non-bank financial entities that provide financial services to women. This loan will be provided through co-financing with the United States International Development Finance Corporation (USDFC) based on the Facility for Accelerating Financial Inclusion in Asia (FAIA) announced on March 27, 2020.
In the Gender Gap Index, which measures gender inequalities, India is ranked 112th out of 153 countries (Global Gender Gap Report 2020), representing a country with a huge gender imbalance. In particular, opportunities for women to participate in economic activities are limited. It is estimated that over 40% of the country's female population, or about 280 million women, have no access to financial services. In response to these circumstances, the Government of India has identified the improvement of women's access to finance as one of its priority issues.
Non-Banking Financial Companies (NBFCs), which have branches in provincial areas and extensively provide loans to individuals, play an important role in this regard. It is, therefore, important to create an environment in which NBFCs are able to obtain stable financing. This project aims to improve women's financial access in the country by providing loans to NAC, which supports the NBFC sector in procuring funds.
At the signing of the loan agreement, Kshama Fernandes, Managing Director and CEO of NAC, said, "We are excited to partner with JICA to further our mission of catering to the diverse credit requirements of underserved households and businesses. The usage of proceeds will be towards promoting women entrepreneurship and employment, an important target area for the company."
Keiichiro Nakazawa, Senior Vice President of JICA, said "NAC is one of the unique and important financial institutions to support funding of Indian NBFC sector, which is a key to promote financial inclusion in India. We expect more Indian women to have accesses to financial service through the partnership with NAC. Also, we are delighted that this loan is the first co-financing with USDFC in India.
Since its establishment in 2008, NAC has been a platform in the financial services sector, working with a large network of financial institution partners and fintechs as well as small businesses and individuals.
In December 2019, Sumitomo Mitsui Banking Corporation invested in NAC, aiming to collaborate in enhancing priority sector lending, such as for small and medium enterprises (SMEs) designated by the Government of India.
JICA's initiative will improve women's access to finance in the country by providing loans to non-bank financial entities via NAC, that offer financial services for women, thereby contributing to the rectification of gender inequalities and sustainable economic growth in the country. It will also contribute to SDGs (Sustainable Development Goals) 1, 5, 8, and 17 as an initiative that supports the "G7 2X Challenge: Finance for Women," [1]which was announced at the G7 Summit 2021 in Cornwall to be implemented in a new phase until 2022.
Note
[1] The "G7 2X Challenge: Financing for Women" is an initiative in which development financial organizations from G7 countries utilize their own funding to encourage private sector investment. In doing so, it aims to mobilize $15 billion by 2022 to financially empower women, such as nurturing female entrepreneurs and business leaders, as well as promoting entry into the labor market. "2X" refers to doubling the amount of financing and effects on women.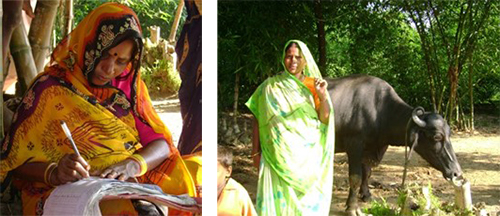 Female customers receiving loans from a NBFC financed by NAC
About JICA
Established, by a specific law, as an incorporated administrative institution under the Government of Japan, the Japan International Cooperation Agency (JICA) aims to contribute to the promotion of international cooperation, as a sole Japanese governmental agency in charge of ODA implementation. JICA is the world's largest bilateral donor agency. JICA works as a bridge between Japan and emerging countries, and provides assistance in forms of loan, grant and technical cooperation so that the emerging countries can strengthen their capabilities.
For further information, please contact:
JICA India Office
Shusaku Takada / Aishwarya Mishra
+91 11 49097000
Takada.Shusaku@jica.go.jp
Mishra-Aishwarya@jica.go.jp
Edelman India
Rakhi Aurora
+91 95990 67185
Rakhi.Aurora@edelman.com