New Delhi, August 31, 2021: Today, DFCCIL conducted the Safety Management Seminar under the Western Dedicated Freight Corridor (DFC) Project, being constructed with the financial support of Japan's ODA loan through Japan International Cooperation Agency (JICA). The said safety seminar was attended by Mr. MIYAMOTO Shingo, Minister (Economic and Development), Embassy of Japan, Mr. SAITO Mitsunori, Chief Representative, JICA India office, senior officials of DFCCIL, representatives from Project Management Consultants and contractors. More than 270 representatives joined this seminar.
Japan has been providing funds and expertise to DFCCIL for the execution of Western Dedicated Freight Corridor Project between Delhi and Mumbai having route length of approximately 1,500km, thereby enhancing its connectivity with Ports, industrial areas, economic zones in six States to promote trade, foreign export and direct investment, which leads to ensure the enhanced economic growth of the country.
This Safety Management Seminar organized by DFCCIL aims to improve safe and healthy working environment at all the construction sites including in trial run operations. At the seminar, DFCCIL, Project Management Consultants and contractors shared their experiences, viewpoints and good practices to further improve safety management and measures.
Speaking on this occasion, Mr. SAITO Mitsunori, Chief Representative, JICA India said, "JICA has been extending financial and technical assistance for various development projects in India, including the nationally prioritized Western DFC Project, executed by DFCCIL. JICA had been deputing their safety advisors with DFCCIL in the past so as to share their knowledge of safe practices and safety measures elsewhere available in other countries. Western DFC project is an epitome of India-Japan collaboration for comprehensive quality infrastructure development. The definition of Quality infrastructure includes perfect Safety Management of project site. It is very essential to establish a safe and healthy working environment not only at the construction stage but also during the testing and trial runs. We will continue to closely work together to achieve our goal of establishing safe and healthy working environment, successful completion of Wester DFC Project and its sustainable operations in time to come."
JICA has extended a cumulative total of 464,267 million Japanese yen in ODA loans (approximately INR 33,000 crore) for Western Dedicated Freight Corridor project up till now. JICA is further exploring the possibility of continuing its assistance to this project and help India achieve its efforts on modernization of freight transportation. It is to be noted that JICA has been emphasizing the importance of safety for construction works also by issuing JICA Standard Safety Specification (JSSS) in February, 2021 as a standard model of the safety specification to specify and define the particular operational health and safety requirements in projects assisted by it.
About JICA
Established, by a specific law, as an incorporated administrative institution under the Government of Japan, the Japan International Cooperation Agency (JICA) aims to contribute to the promotion of international cooperation, as a sole Japanese governmental agency in charge of ODA implementation. JICA is the world's largest bilateral donor agency. JICA works as a bridge between Japan and emerging countries, and provides assistance in forms of loan, grant and technical cooperation so that the emerging countries can strengthen their capabilities.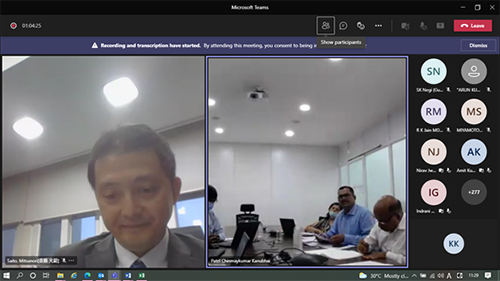 Safety Management Seminar attended by Mr. SAITO Mitsunori, Chief Representative, JICA India office
For further information, please contact:
JICA India Office
Shusaku Takada / Aishwarya Mishra
+91 11 49097000
Takada.Shusaku@jica.go.jp
Mishra-Aishwarya@jica.go.jp
Edelman India
Rakhi Aurora
+91 95990 67185
Rakhi.Aurora@edelman.com