New Delhi, April 22, 2023: India ranks itself last out of 180 countries, according to the Environmental Performance Index 2022, highlighting the pressing need to invest in the planet. As India moves towards a greener future, stakeholders must unite and invest in the planet's health. Aligning with this year's theme of the World Earth Day, 'Invest in Our Planet,' Japan International Cooperation Agency (JICA) India continues to play a crucial role in supporting India's efforts to improve its environmental performance. We believe that sustainable development is the keystone for creating a better future for all. Our efforts towards environmental conservation are a testament to our commitment to promoting a greener and more sustainable future.
Speaking on the occasion of the World Earth Day, Mr. SAITO Mitsunori, Chief Representative, JICA India Office, said, "The time to act is now. Investing in sustainable practices and technologies is not just the need of the hour, but also the need of the future. We aim to improve the quality of life while ensuring the preservation and protection of the environment. The idea remains to work for a greener and sustainable future."
JICA has been focusing on sustainable forest management, biodiversity conservation, and forest ecosystem services since 1991. One of JICA's notable forest conservation projects is the Project for Forest and Biodiversity Conservation for Climate Change Response in West Bengal (WB-FBCCCR). The project strives to strengthen forest management, promote sustainable use of natural resources, and improve livelihoods in the state. It further mitigates the impacts of climate change by conserving biodiversity, enhancing forest carbon stocks and ecosystem resilience.
JICA actively improves agricultural productivity and income for farmers, while prioritizing environmental sustainability. The Rajasthan Water Sector Livelihood Improvement Project (II), for instance, is the second tranche of the Rajasthan Water Sector Livelihood Improvement Project (I) which seeks to enhance agricultural productivity and environmental sustainability through efficient water management. In addition to this, the Uttarakhand Integrated Horticulture Development Project (UIHDP) aims to promote sustainable horticulture practices and environmental sustainability in Uttarakhand, through water harvesting, agroforestry, and biodiversity conservation. It grants a loan of JPY 6,401 million, aims to benefit 100,000 farmers, and has improved farmers' income by up to 50% through high-value crops. The focus on sustainable horticulture practices also strives to reduce the usage of harmful pesticides and chemicals, improve soil health, and promote efficient water management.
Japan's expertise in devising modern and efficient metro rail systems contributes to robust and sustainable development. The idea is to improve urban transportation and reduce traffic congestion for a more reliable and affordable public transportation option. JICA grants ODA loans in several metro rail system projects in Delhi, Bengaluru, Kolkata, Patna, Mumbai, Chennai and Ahmedabad, exceeding JPY 3,350,374 million. The Patna Metro Rail Construction Project (I), funded by JICA, is a first-of-its-kind project introduced in Tier 2 cities, which aims to integrate sustainable development principles and minimize environmental impact in planning and execution. Likewise, the JICA India Chennai Metro Project (Phase 2) (II) is an extension of the Chennai Metro Rail System, which aims to provide a modern and sustainable transportation option to the people of Chennai. It also includes using energy-efficient trains, rainwater harvesting, and solar panels for station lighting to minimize the impact.
In compliance with its commitments, JICA supports projects in India's public, health, and medicine since 1991, extending ODA loans of JPY 101,894 million. The projects focus on improving healthcare access and quality in the country, while also promoting environmental sustainability through measures such as improving water and sanitation facilities, controlling vector-borne diseases, and using renewable energy sources. They aim to reduce the disease burden and strengthen public health systems in India, while also minimizing their impact on the environment by promoting sustainable practices and technologies.
JICA endeavors to support India's progress toward comprehensive growth by focusing on environmental, social, and economic domains in all its projects.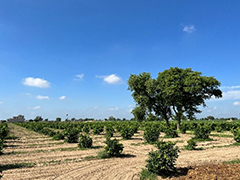 Mango farms under the Rajasthan Water Supply
Livelihood Improvement Project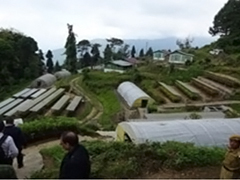 The nursery of West Bengal Forest and Biodiversity Conservation Project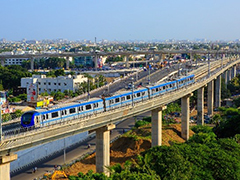 Chennai metro Project using energy-efficient trains, rainwater harvesting, and solar panels for station lighting to minimize the impact.
About JICA
Established, by a specific law, as an incorporated administrative institution under the Government of Japan, the Japan International Cooperation Agency (JICA) aims to contribute to the promotion of international cooperation, as a sole Japanese governmental agency in charge of ODA implementation. JICA is the world's largest bilateral donor agency. JICA works as a bridge between Japan and emerging countries, and provides assistance in forms of loan, grant and technical cooperation so that the emerging countries can strengthen their capabilities.
For further information, please contact:
JICA India Office
Shusaku Takada /Aishwarya Mishra
(+91)-11-49097000
Takada.Shusaku@jica.go.jp
Mishra-Aishwarya@jica.go.jp
Edelman India
Rakhi Aurora
(+91)-9599067185
Rakhi.Aurora@edelman.com