KAPPIJA-21 (Keluarga Alumni Program Persahabatan Indonesia- Jepang Abad-21/ Association of 21st Century Indonesia-Japan Friendship Program)
Established: March 18, 1985
Category of members:
Alumni of the Youth Invitation Program for the 21st Century and the Knowledge Co-Creation Program (KCCP) for Young Leaders consist of various background of occupations i.e. officials and staff of central government ministries, officials of local government, teachers, nurses, medical doctors, politicians and parliament members, private sector enterprises, journalists, lawyers, NGO activist, etc.
Total members: 4,162 (updated December 17, 2018)
Organization structure: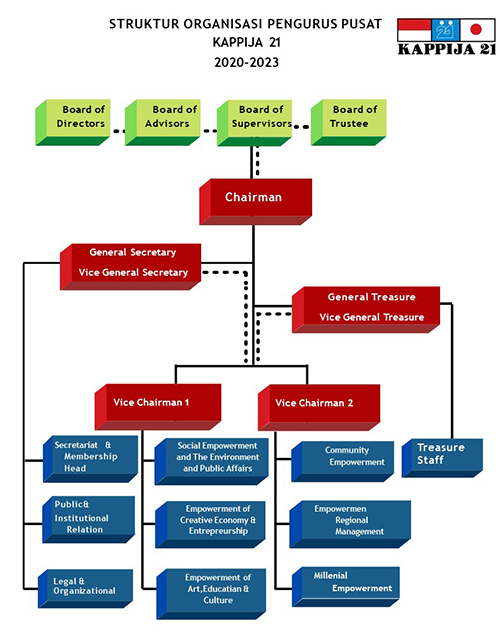 National Committee: Elected by Local Committee in General Assembly
Local Committee: Elected by registered members in respective provinces. There are fourteen (14) Local Committees around Indonesia nation-wide; Aceh, North Sumatera, Riau, West Sumatera, South Sumatera, Lampung Banten, Special Region of Jakarta (DKI Jakarta), West Java, Central Java, Special Region of Yogyakarta (DIY), East Java, Kalimantan, South Sulawesi and Maluku.
Patron Institutions; JICA Indonesia Office, State Secretariat of the Republic of Indonesia and Embassy of Japan.
Recent Programs:
Fiscal Year 2018:
Held a "2018 National Leader Forum" in Medan, November 9-10, 2018
Workshop on "Garbage Management" at Pondok Bambu, East Jakarta, October 20, 2018
Fiscal Year 2017:
Participated Executive Council Meeting of ASEAN-Japan Friendships Association for the 21st Century (AJAFA) in Yangon, Myanmar, March 16-19, 2018
Held a "National Leader Meeting" in Surabaya, March 2-4, 2018
Held a "Cultural Exchange Day" in East Jakarta, December 21, 2017
"Environment Management Workshop" in Bulukumba, December 19-20, 2017
Held a "2017 National Leader Forum" in Batam, November 3-5, 2017
Fiscal Year 2016:
Participated Executive Council Meeting of AJAFA in Kuala Lumpur, Malaysia, March 2-5, 2017
Held KAPPIJA-21 National Leader Meeting and Workshop in Jakarta. November 25-27, 2016
Official Homepage: http://www.kappija-21.or.id