Japan International Cooperation Agency (JICA) convened an online event to support JICA Partnership Program (JPP) "Project for Improvement of Women's Health Status through Human Resources Development of Health Sector" in Teluk Bintuni Regency, West Papua. This event aimed to connect people working on maternal and child health-related matters for mothers or women at large across different JICA funded projects and share their experience, learning, and knowledge.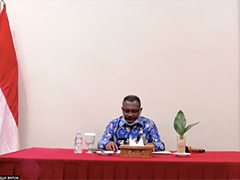 Ir. Petrus Kasihiw, MT – Reagent of Teluk Bintuni
This JPP is a collaboration between Gunma University and Teluk Bintuni Regional Public Hospital that aims to increase the number of women who understand anemia and nutrition so that the issues related to anemia would be addressed in the target area. To achieve such a goal, this JPP has developed an action plan to improve women's anemia status. The capacity enhancement activities of health staff, who support the targeted women in the area, are also ongoing to support the implementation of the action plan.
On June 4, JICA shared the information of the Knowledge Co-Creation Program (KCCP) training that was presented by Mr. HISAO Ando, Project Formulation Advisor. Three of JICA KCCP alumni related to maternal and child issues, from regional and national levels were invited as the speakers. The first speaker was from KCCP Improvement of Maternal and Child Nutrition, while the others were from KCCP Improvement of Maternal Health and KCCP Continuum of Care for Maternal, Newborn and Child Health (MNCH) and Universal Health Coverage (UHC). The 3 KCCP alumni have been involved in the national and regional program under JICA technical cooperation called "Project for Enhancing the Quality of Maternal and Child Health Program and the Implementation of MCH Handbook in the Era of Decentralization".
The event was divided into two sessions. The 1st session was focused on sharing the training and activities with all participants and the audience and enabled the knowledge and experience sharing between the health staff involved in JPP and the participants of JICA KCCP training related to respective topics in the training. This session was also a great opportunity to receive feedback or insight on the participants' actions from other health professionals and experts in the government and JICA networks. Meanwhile, the 2nd closed session was held to stimulate the free and interactive discussion among participants.
In the opening remarks, Mr. TANAKA Tsutomu, Senior Representative of JICA Indonesia Office, recalled its long history of bilateral cooperation between Japan and Indonesia for public health sectors, especially in maternal and child issues with the Mother and Child Handbook since the 1990s. He emphasized the importance of this event as part to support the Government of Indonesia. On the one hand, Mr. Petrus Kasihiw, Reagent of Teluk Bintuni Region, also joined and delivered his remarks. He emphasized that this initiative was a great opportunity to exchange insights and work together in overcoming anemia as one of the health problems nationally and globally. By the end of 2025, Teluk Bintuni and Manimeri are targeting to reduce the incidence of anemia from 32.97% to 10%.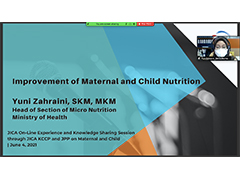 Yuni Zahraini, SKM, MKM - Ministry of Health, Sub-directorate of Malnutrition Control and Prevention
Yuni Zahraini, SKM, MKM, Sub-directorate of Malnutrition Control and Prevention - MoH, explained her experience in participating in KCCP and making an activity plan regarding efforts to increase nutritional intake for toddlers in Indonesia with local food which will be commenced in August 2021 in 16 districts in Indonesia. She highlighted nutrition education intervention, not only for disseminating information, but also including a cooking demonstration that involves mothers and other family members. This strategy is adapted from shokuiku, the Japanese way, and also from KCCP participants from other countries.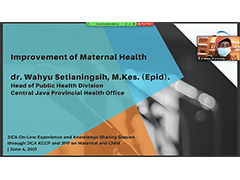 dr. Wahyu Setianingsih, M.Kes. (Epid) - Central Java Provincial Health Office
dr. Wahyu Setianingsih, M.Kes. (Epid) and dr. Wahyu Amri Fauzi, MPH from Central Java and West Nusa Tenggara Provincial Health Office respectively, focused on the action and implementation of the little baby handbook as well as maternal and child handbook in the field. Both speakers shared their experience in the field and agreed that there are many actors involved in the handbook utilization, especially the influential ones such as families and cadres.
The Anemia Alleviation team (TimPA) under JPP Program introduced GEMATURI (Movement Against Anemia in Bintuni and Manimeri). TimPA also shared their findings on the factors that cause Anemia in Bintuni and Manimeri. Besides, they also explained 7 activities as their action plan to reduce anemia in both regions and shared its progress. GEMATURI also engaged other stakeholders in the formation of the action plan and opens for collaboration with Bintuni and Manimeri Primary Health Centers.
After the presentations, the event moved to the discussion and Question and Answer sessions. There were many questions raised by participants to each presenter. JICA Senior Advisor, Keiko Osaki as well as JICA Expert, Yoko Masaki, and Dwi Octa Amalia, Ministry of Health's representative joined online to give feedback and comment on the action plan presented by the ex-KCCP participants.
The 2nd session was filled with an active discussion between GEMATURI (Movement Against Anemia in Bintuni and Manimeri) members and the ex-KCCP participants aiming to share their experience in implementing the action plan, challenges, and how to solve the problem faced in the field. The event successfully engaged more than 40 people joining online from Japan and across Indonesia, and offline from Manokwari, West Papua.
JICA would like to thank all participants for joining the sessions on the day. The friendship and the network developed through KCCP are one of our greatest assets. JICA is happy to continue to support knowledge sharing through KCCPs and post-program activities.