For the past five years, JICA has invited future leaders from partner countries to Japan to study in master's or doctor's courses through the human resource development program "JICA Development Studies Program (JICA-DSP)". One of the programs of JICA-DSP is "Disaster Risk Reduction (DRR) Leaders Capacity Development for the Sendai Framework Implementation".
On 22 and 24 February 2022, two interns from Disaster Risk Reduction Group; Tomoka Murakami and Sako Ikewada, interviewed four JICA scholars from Indonesia who are currently studying at Tohoku University. The four scholars are: Sesa Wiguna (doctor's course), Novia Antika Anggraeni (master's course), Iskandar (master's course) and Asteria Satyaning Handayani (who completed master course with JICA scholarship in 2020 and currently taking doctor's course).
In the interview, the four scholars talked about their research theme, and apparently they shared a similar point of view about what they should achieve and implement in Indonesia. They pointed out the importance of disaster mitigation education and the delivery of the right information in order to prevent the fake news (hoax) among the public.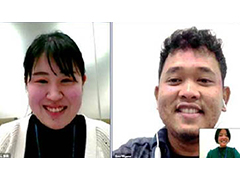 (left-right) Ms. Murakami, Mr. Sesa, and Ms. Ikewada
Sesa Wiguna, a member of the National Disaster Management Agency (BNPB), stated, "As long as the information can be disseminated quickly, I think it is very good. But when it comes to the general public, some people can become extremely scared when they hear the alarm go off. So, the challenge is how to communicate risk to help people to act appropriately without making them worry too much."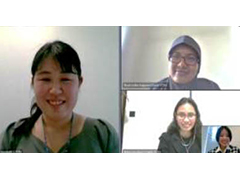 (clockwise) Ms. Murakami, Ms. Novia, Ms. Asteria, and Ms. Ikewada
Novia Antika Anggraeni and Iskandar, members of the Center for Volcanology and Geological Hazard Mitigation, conveyed similar thing. They said it was very important to educate the public about the equipment used to monitor activities of disaster sources and of course serve as a warning when a disaster occurs and can save their lives. Moreover, to educate children as early as possible about the importance of disaster mitigation.
Besides the importance of education, Asteria Satyaning Handayani,a member of the Meteorology, Climatology and Geophysics Agency (BMKG), mentioned that the general public's awareness in Indonesia of disaster risk was still inadequate. And unfortunately, many people still trust the false information (hoaxes) easily, such as in social media.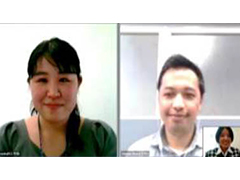 (left-right) Ms. Murakami, Mr. Iskandar, and Ms. Ikewada
In addition to research topics and study activities, they also shared stories about their life in Japan, such as their experience with freezing cold weather in winter, culinary tourism, learning Japanese language, and of course the opportunity to interact and build relationships with other students from Japan and other countries, which is certainly a valuable experience for them.
The interview was concluded with a question about an advice for future participants. Asteria said, "I think it's really important to network, especially since we work for the government, and JICA really has a lot to offer here, and it's a memorable experience. It would be a shame to spend too much time studying at the campus, so please experience a lot more than just studying lecture materials." Hopefully with JICA-DSP, JICA scholars from Indonesia can bring and apply the knowledge and experiences they get in Japan to build and make Indonesia better, especially in the field of disaster management.
You can find more information about JICA-DSP here: