Covid-19 positive cases are on the rise again in Indonesia. The number of new positive cases for Covid-19 has exceeded 6,500 for the first time in approximately four months since March 22, bringing the cumulative number of patients to more than 6.23 million. (As of August 4, 2022)
In 2021, JICA donated 400 units of oxygen concentrators manufactured by NIDEK Medical in the United States, in order to support the efforts of the Indonesian Ministry of Health to overcome the pandemic COVID-19. The donation was made under the currently ongoing technical cooperation project, "Project for Enhancing the Quality of Maternal and Child Health Program and the Implementation of Maternal and Child Health Handbook in the Era of Decentralization".
In order to ensure that medical workers obtain the appropriate knowledge for using the oxygen concentrators; JICA, Ministry of Health/Kemenkes RI, and the Health Department in Jakarta conducted a training for the operation and maintenance of the donated oxygen concentrators on July 12 and 13.
The training was aimed to 3 hospitals and at 4 health centres/ Puskesmas in the West Jakarta region, which received the largest number of oxygen concentrators donation with 70 units. 15 participants attended the training, including medical personnel and technicians from each hospital and health centre.
The training program was mentored by a doctor from the University Hospital of Indonesia, as well as Health Facility Safety Management Center Balai Pengaman Fasilitas Kesehatan, BPFK)under Ministry of Health, and PT Global Promedika Service.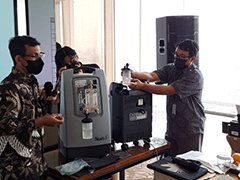 The oxygen concentrators made by NIDEK.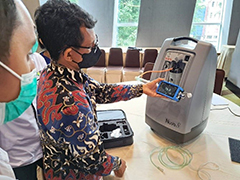 One of the trainers shows method of calibration of the oxygen concentrators.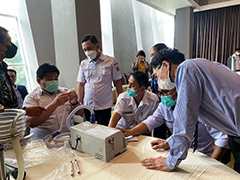 Training participants involves in a problem-solving session.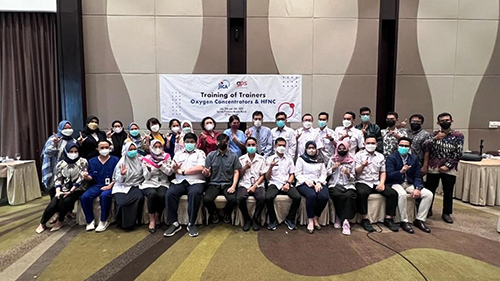 Group photo