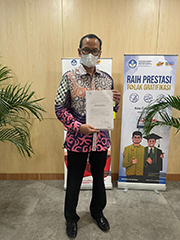 Prof. Ir. Nizam, M.Sc., DIC, Ph.D., IPU, Asean Eng. ; Acting Director General for Higher Education, Culture, Research, and Technology; Ministry of Education, Culture, Research, and Technology (MoECRT)
On 3 August 2022, Japan International Cooperation Agency (JICA) signed Minutes of Meeting on the amendment of the Record of Discussions (R/D) with the Ministry of Education, Culture, Research and Technology (MoECRT) for Additional Component of the Project for Capacity Development of ICU Using Telemedicine under COVID-19 Pandemic.
Since October 2021, JICA has been implementing the Technical Cooperation with MoECRT, Rumah Sakit Universitas Indonesia (RSUI) and Rumah Sakit Universitas Hasanuddin (RSUH), providing regular doctor-to-doctor ("D2D") and nurse-to-nurse teleconsultation sessions between RSUI/RSUH Intensive Care Unit professionals facing critically ill patients including those suffered from the novel coronavirus infection and Japanese intensive care specialists.
With the success in the ongoing ICU telemedicine activities, MoECRT, RSUI and RSUH expressed their wish to extend the project scope beyond the Counterpart Hospitals with additional medical areas such as Obstetrics and Ophthalmology.
As a result of discussion, both sides have agreed to extend the Project in line with a type of D2D telemedicine, to help frontline doctors and nurse diagnose and treat the patients, and through this, to further improve their confidence and competence in the clinical department of ICU, Obstetrics, and Ophthalmology.
A sub-component for RSUI in the Component is designed to strengthen ICU capability among regional network hospitals in the Jakarta Metropolitan area.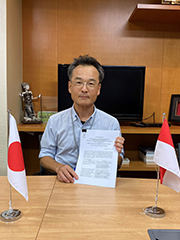 Yasui Takehiro, Chief Representative for JICA Indonesia
Another sub-component for RSUH is to extend medical areas in Obstetrics and Ophthalmology with class C/D hospitals and Puskesmas in remote areas and islands in the Eastern part of Indonesia where medical resources of specialists are scarce.
The Additional Component activities will start from this October 2022 to April 2024.