Entering the 5th year since JICA Development Studies Program (JICA-DSP) was launched, JICA Indonesia office has dispatched 46 participants to study Master's and PhD's courses in Japan, and 21 participants will be dispatched in the third quarter of 2022.
To maintain the good relationship between JICA and participants of JICA-DSP and build network among them, JICA Indonesia office conducted the first Gathering Event for the ex-participants, current participants who are still in Japan, and candidates of the JICA-DSP on August 22, 2022 at Nirada Room, Century Park Hotel, Jakarta.
As part of the program, JICA Indonesia gave a Pre-Departure Briefing to candidates who are going to start their study program in Japan this year. This was one of the great moments for the candidates. Because, in addition to getting general information about the departure procedure, the candidates also had the opportunity to ask many questions and received information both in academic and non-academic terms from alumni in Indonesia and participants who are in Japan.
"JICA-DSP in my opinion is a fun program. I really enjoyed my time with JICA. Good luck to candidates who are leaving for Japan. I am sure that they will all be successful and can have fun in Japan.)" said Lintang Paramitasari, Director of Junior Diplomatic School at Ministry of Foreign Affairs, who is a JICA-DSP Alumni for the "SDGs Global Leader" program in 2017-2019.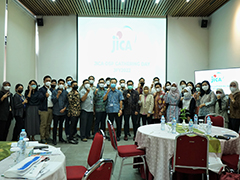 "In my opinion, with the holding of this Gathering Event, it is very useful and certainly makes us more enthusiastic about study in Japan. We can also get to know alumni and friends of other program participants both departing and already in Japan. Thanks to JICA for hosting this event." Said Hasnim Kaulani, one of the JICA-DSP candidates who will be dispatched to Japan this year.
JICA Indonesia hopes that after this event, both JICA and all participants of JICA-DSP from Indonesia can maintain a good relationship, and keep supporting each other to give a good contribution to Indonesia and Japan.