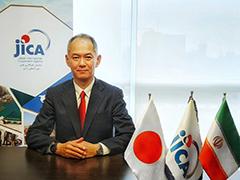 Salam.
Iran, at the crossroads on the continent, is always fascinating people. Its science advanced the world's technology, the medieval literature is recited in the daily life even today, the nature shows beautiful landscapes, towns have inherited traditional architecture and gardens, the food is tasty and the people are generous and kind. Iran is proving it to me, too.
Moreover, I am greatly honored for the long-standing relationship between Iran and Japan. I imagine that people in the 6th century's Japan tried to see the scenes of Iran through the Sasanian glass which had been brought there through the Silk Road. The Sasanian glass, still kept in the Shosoin Treasury in Nara of Japan, has exactly the same shape of the ones found in Guilan Province of Iran. The people in Nara also learned culture and technology from Persians who had travelled finally to reach there 1,300 years ago.
Later, in 1880 just after Japan restarted communication with other countries, a Japanese delegation had an adventure through deserts to meet Nasser al-Din Shah of Qajar Dynasty, who inaugurated the modern Iranian-Japanese relationship. In 1930s, a Japanese engineer joined in the Trans-Iranian Railway Construction Project which connected Tehran with the Persian Gulf. Since then, Iran and Japan have been enjoying the close relationship. ABE Shinzo, the then-Prime Minister of Japan visited this country in 2019 and renewed the friendship.
Based upon the mutually trusted relationship between the two countries, we are here to extend development cooperation for the people in Iran.
Japan's cooperation with Iran dates back to 1957, only 12 years after the devastating war. We started providing the Iranian technical officials with training opportunities. Today, we are extending our mandate through technical and financial cooperation as well as facilitating activities of NGOs and the private sector encompassing multiple fields including economy, disaster risk reduction, water resources, health, agriculture, environment and promotion of regional cooperation.
Throughout its long history, JICA has steadily continued its work in Iran, keeping our wish unchanged whatever difficulties we encountered. Our wish is to help Iranian people achieve human security and sustainable development.
I took office in December 2022 and have the privilege to fulfill this wish. As it is an enormous aspiration, it needs support and collaboration. We keep our door open for all the partners.
Let's work together.
TANAKA Osamu
Chief Representative
JICA Iran Office