After COVID-19 pandemic, JICA is strengthening efforts to protect the lives and health of people in developing countries based on the idea of "human security" recommended by Sadako Ogata, the former president of JICA, under the "leave no one behind"[1] policy of Japanese government aiming to actively lead international efforts to achieve universal health coverage.
In Iran, JICA has also continued to support the activities in the health sector. The technical cooperation project "Project for Improving Medical Services in the Islamic Republic of Iran through Japan's Medical Management Models" has been initiated in November 2019 through which Japanese health care policies and technologies in five areas of hospital management, elder issues, hospital design and construction, elder issues, cancer management, and NCD management and control are going to be conveyed to the counterparts in Iran.
In Iran, the status of new coronavirus infection has been worsened. According to WHO research as of November 6th, 8,864 new infections/day, 424 new deaths/day, 663,800 cumulative infections, and 37,409 cumulative deaths are recorded. In terms of cumulative of infected people and death toll per million people, it is the most serious infection situation in the Middle East[2].
Under such serious condition, firstly, healthcare-related infections are becoming more serious, and there are challenges in maintaining the proper operation and function of hospitals. Secondly, since medical resources are devoted to the treatment of the new coronavirus, non-infectious disease patients do not receive proper treatment.
So, at the request of the Ministry of Health, Medical and Education of Iran (Iran MOHME), JICA Iran Office planned to share Japanese knowledge in the above-mentioned fields and two webinars on "Hospital Management under COVID-19 Pandemic" and "Non-communicable Diseases Treatment under COVID-19 Pandemic" were conducted on Nov 10th and 11th, 2020 as the countermeasure against COVID-19. Dr. Sakamoto Haruka, assistant professor of Keio University, who has the experience at the Ministry of Health, Labor and Welfare of Government of Japan and WHO and is familiar with medical policies and international health care was kindly requested to be the lecturer for these two webinars. She has an experience of living in Iran and subsequently have a deep understanding of Iran's unique circumstances. In the said webinars 102 managers from public hospitals and 57 managers and experts of NCD departments of medical universities from all around the country attended.
For the first day of the Webinar on "Hospital Management under COVID-19 Pandemic", Dr.Sakamoto introduced Japan strategy for COVID-19 for hospital management with the focus on testing, contact tracing, isolation policies, and strategies for the prevention of healthcare-related infection through taking cluster-based approach while during the second day of the webinar on " NCD Treatment under COVID-19", she explained NCD management in Japan, direction of tele-medicine policies and the possible challenges to Iranian counterparts.
Through the webinars, both sides deepened their understanding on the current situation through not only giving the lecture by Dr. Sakamoto but also having case discussions between both sides.
According to Dr. Naeli, Deputy Director General of International Department of Iran MOHME, both webinars highly welcomed by the participants. He appreciated Japan and JICA's cooperation for conducting these webinars and mentioned they would like to consider introducing some ideas and strategies that presented by Dr. Sakamoto to be applied in Iran.
Regarding the hospital management, according to Dr. Sedaghat, the associate professor of Tehran University of Medical Science, Iranian side found the cluster-based approach in Japan, hospital governance with the focus on human resource management and zoning in hospitals, the in-advance coordination among key stakeholders for the Pandemic, and the Bluetooth application to track close contacts interesting and useful, which can also be considered to be applied in Iran.
Dr. Ostovar, Director General of Non-Communicable Disease Department of Iran MOHME also expressed his sincere gratitude to Dr. Sakamoto for sharing Japanese experiences and patiently answering all the questions raised by the participants from medical universities. He believed that both countries are taking similar approach for NCD control and treatment under COVID-19 and such a webinar is an opportunity to share experiences between both sides and apply good practices for NCD treatment within the country.
JICA Iran Office hopes that these webinars will contribute to Iran for countermeasures against COVID-19.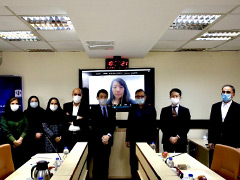 Group Photo
Central Monitor: Dr. SAKAMOTO Haruka,assistant professor of Keio University
Right from centre:Dr. NAELI Jalal, Deputy Director General of International Affairs Department, Iran MOHME
Right from centre: Mr. AZUMA Taro, Chief Representative, JICA Iran Office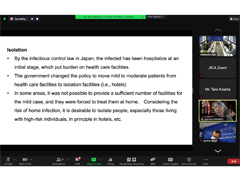 Online seminar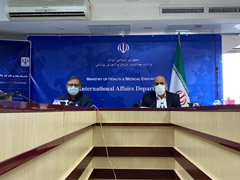 Greetings from high executives from Iran MOHME
Left: Dr. NAELI Jalal, Deputy Director General of International Affairs Department
Right: Dr. MOGHISI Alireza, Deputy Director General for NCD Department