JICA Alumni Association in Iran and Turkey co-organized the first joint online seminar on "Development of Sustainable Aquaculture" in the cooperation with the "Iranian Fisheries Organization" and the "Directorate General of Aquaculture of the Ministry of Agriculture and Forestry of Turkey" on 17th February 2021.
The seminar received great interest of more than 140 aquaculture related participants from both governments as well as the JICA officials and the alumni association members. The active discussion after the presentations regarding the current situation and challenges by the representatives of both countries, was also one of the obvious indicators of the high level of the interest in this field.
As one of the outcomes of this successful seminar, the contact points from both organizations for the development of future technical cooperation and friendship between Iran and Turkey was decided to be set up!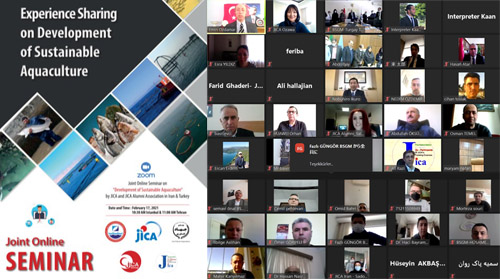 JICA Alumni Associations as a mediator of Technical Cooperation between two countries!
Both Iran and Turkey, countries that face the sea are blessed with marine resources and have a thriving fishing industry. Especially in Turkey, aquaculture technology has improved drastically thanks to the technical cooperation of the Japanese government in the past, and now it has grown to a host country of third-country training to share the knowledge and experience to neighboring countries. However, both countries' sea resources are limited.
So, knowledge and experience need to be shared with each other for the development of sustainable fisheries and the aquaculture industry. The seminar offered the opportunity for the aquaculture experts of both countries to meet each other via online, to learn about each other and consider what kind of cooperative relationships can be built in future.

Mr. Turkyilmaz, Deputy Director General of Aquaculture, Turkey, shares experiences on the current state of Turkish fisheries and technical cooperation in Japan.

Dr. Abdolhay, Head of Department of Aquaculture, Iran Fisheries Organization, gives an introduction on the Current state of Iran's Fisheries Industry
This seminar conducted successfully and received positive feedbacks from the both countries participants. As a result, the recommendation has been raised such as
the contact point should be set up for strengthening the relations between two organizations, technical seminars must be held again, he site visits of each country to explore the possibility of technical cooperation in near future, and so on.
Not remaining as the verbal commitment, they have already started to take concrete steps after the seminar.
This must be one of the good practices among the activities of JICA Alumni Associations, because the humble idea of the joint seminar arrangement could eventually lead to a cross-border technical cooperation. It is great for JICA to be a witness for the fruition of past technical cooperation and training. We look forward to see the development toward the cross-border knowledge sharing.