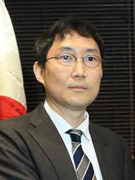 This is my second assignment to Jordan. My last assignment was for about 4 years, starting in 2013. At that time, we were in the midst of a large influx of Syrian refugees. To meet the growing demand for water in the north, we developed a water supply master plan and based on it provided grant aid for the improvement of water supply facilities. The water sector is one that we have traditionally cooperated in. We have constructed many water supply facilities through grant aid and provided technical assistance to water utilities.
Currently, our cooperation consists mainly of the following three pillars based on the basic policy of "Enhancement of Regional Stability and Strengthening Infrastructure for Economic Growth".
Sustainable and self-reliant economic growth
Poverty reduction and minimizing social disparities
Regional stability
Specifically, we focus on cooperation in the field of tourism, which expand the opportunities for employment, vocational training, and cooperation that contributes to the stable supply of electricity. We cannot forget the support for people with disabilities and cooperation at the grassroots level by Japanese volunteers.
In addition to these, one of our significant financial tools, concessional loans injected directly into the government budget, supports many development agendas under "sustainable and self-reliant economic growth". Release of finance is triggered by Jordanian government's achievements of various reform efforts based on agreed policy matrix (i.e. development policy loan). The total amount of loan disbursed so far accumulates up to around 3 billion USD.
In the future, we plan to utilize ICT and artificial intelligence to foster industries based on new technologies and strategies, as well as to support the creation of urban master plans based on the concept of smart cities. We will continue to work for the economic, social, and regional stability of Jordan and the improvement of people's lives through various activities.
WAKUI Junji
Chief Representative,
JICA Jordan Office