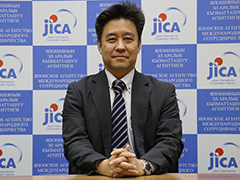 Greetings to honorable readers,
It is my great pleasure to work in the Kyrgyz Republic and as one of big fans of the country and to be a part of 'a bridge' between Kyrgyzstan and Japan.
Through JICA projects and activities, I would like to make my best efforts with the following approaches.
--- To learn and study the real situation both in the city areas and regions in the Kyrgyz Republic and find 'real' needs for development;
--- To support any cooperation programs, projects, and activities based on the needs of the Kyrgyz people, and to contribute the economic and social development of the Kyrgyz Republic;
--- To mobilize Japan's and JICA's experiences of development in/outside of Japan and to adjust to the Kyrgyz situations; and
--- To open any channels to discuss any ideas and suggestions on ongoing and future cooperation.
In the Kyrgyz Republic, JICA supports two priority areas: 1) Agriculture and Business Promotion, 2) Development of Transport Infrastructure. Both areas are crucial in social and economic development of the Kyrgyz Republic. We also has strengthened the support to human resource development as a cross-cutting agenda.
The uniqueness of JICA's cooperation stands in the fact that Japan has experienced the first modernization within a few years in 150 years ago, and also reconstructed rapidly after the WWII. With the lack of natural resources, Japanese policy has taken priority on the human resource development and creating modern systems of politics, administration, and economy with private sector development. These experiences contains lessons learnt, too. JICA, mobilizing our expertise, would be happy to bridge the needs in the Kyrgyz Republic and the above Japan's experiences, aligning with the Sustainable Development Goals (SDGs), then to contribute to the development of the Kyrgyz Republic.
We will update our activities timely through the following site. We appreciate if you can access the site and support our activities.
I'm looking forward to meeting people of the warm hospitality, and enjoying beautiful country.
Mr. Naoyuki Nemoto, Chief Representative of JICA in the Kyrgyz Republic