Project for Market-Oriented Milk Production in the Chui Region (MOMP Project) held an opening seminar of a course for farmers, "Training of Trainers" (TOT), on June 6, 2020.
TOT is consisted of training and exchange of skills/ experience to achieve the proper animal care and management of dairy farm. The course will last 6 months and involve 12 Core Farmers of the MOMP project from 7 districts of Chui region. Participant are to willingly share experience and disseminate their knowledge and skills among neighboring farmers.
In this seminar, the participants were explained about main goals and objectives of TOT after they received PPEs for COVID-19 prevention. Then, a farm tour was held at the "Bermet" farm, one of the leading dairy farms in Kyrgyzstan. The opening ceremony was attended by MOMP Project partners such as MAFIM, SIVPS under the Government of the KR, the Plenipotentiary Representation of the Government in the Chui Region, the Milk Union of the Kyrgyz Republic, members of farmers associations and core farmers. Project partners emphasized the importance of supporting the dairy sector and implementing TOT in particular.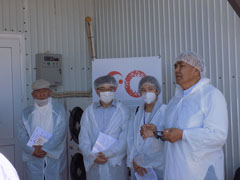 Chuy governer speech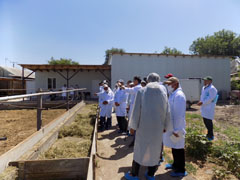 Excursion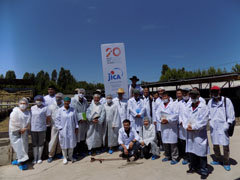 Group photo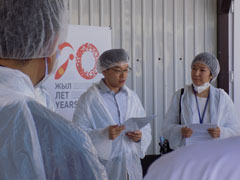 JICA Bishkek Office speech