With the COVID-19-causing Novel Coronavirus spreading worldwide, each nation is committing efforts towards prevention and control.
As this critically important health struggle continues, accumulated experiences in fighting against dangerous infections in the past remain instructive today.
One such effort was against Severe Acute Respiratory Syndrome (SARS) in the early 2000s.
In 2002, the first SARS-infected patient was confirmed. As infections increased in prevalence in various parts of Asia, JICA supported many countries, including Laos, by sending medical masks and Personal Protective Equipment (PPE)), etc.
In Laos at that time, Ms. Kazuko IWATA was a JICA Expert at the Setthathirath Hospital in the Lao capital Vientiane. Strengthening nursing capacities, especially the teaching of nursing management and skills(*), was Ms Iwata's assignment.
Today, Setthathirath Hospital remains one of the central hospitals in Laos. The hospital and its staff play an important role, not only in measures against Novel Coronavirus, but also other infectious diseases.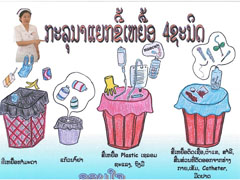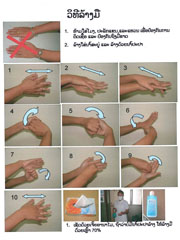 In 2003, a workshop on hospital infection control was held at Setthathirath Hospital by involving staff of the Ministry of Health and WHO. Following that, Ms. Iwata and other members of the JICA project conducted training at the hospital for nurses on basic yet necessary preventative actions such as techniques for handwashing and disinfection and the proper wearing and removal of protective clothing.
Besides these efforts, administrative staff members were instructed on how to best respond when patients visited the hospital. Cleaning staff members learned how to handle their equipment and how best to clean safely and thoroughly.
Over 100 personnel participated in these training sessions.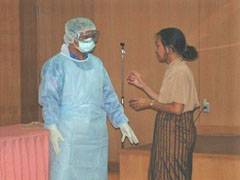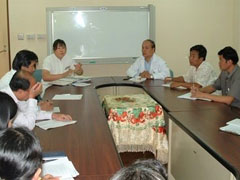 In addition, the hospital infection control committee also discussed infection prevention measures in hospitals together across occupations.
In light of today's challenges, Ms. Iwata reflected on the lessons of the past.
"Fortunately, as we now know, Laos did not suffer greatly from SARS," Ms Iwata said.
"When I offered nursing instruction, I did not feel too concerned but I remember that I was careful to act with necessary caution.
"Some of the Lao counterparts from that time have already retired, but I heard from people who are still working that the nursing staff are more aware of their duties and responsibilities when compared to the past.
"At that time, staff members mainly engaged their roles by strictly following instructions from above. When we proposed to hold an infection control committee across occupations within the hospital, it was a challenge to get the necessary approvals.
"However, a few years later, a staff member was heard to say; "I didn't understand what Ms. Iwata was saying at that time but now I understand. Now we can listen to everyone's opinions, discuss these with them, and identify solutions ourselves.''
"It made me happy to hear that," Ms Iwata said.
To date, several JICA experts and JOCVs have been supporting nursing management in hospitals and nosocomial (hospital-acquired) infection control in Laos.
This long-term cooperation has been utilized in support of countermeasures against this new coronavirus.
(*) The Project for Improving Setthathirath Hospital (Technical Cooperation) from October 1999 - September 2004.