On April 12, the most recent and 19th case of the novel coronavirus (COVID-19) was confirmed in Laos. Since then, no new cases have been reported for more than 70 days.
However, testing is operating continuously.
The Institute Pasteur du Laos (Lao Pasteur Institute) is one of the institutes in the country that conducts the PCR diagnoses for the new coronavirus.
JICA supported the institute in its research on the control of infectious diseases via the SATREPS Project for five years (*) from 2014-2019.
Staff at the institute who received training via the SATREPS project are using DNA testing equipment provided by JICA to conduct the diagnoses.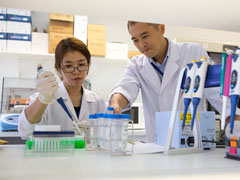 Dr. Sengdeuane KEOMALAPHET is a Parasitology researcher at the Pasteur Institute. She twice attended training at the National Center for Global Health and Medicine (NCGM) of Japan to learn about PCR testing and other genetic analyses for malaria with the support of the SATREPS project.
At the time the project commenced, she was studying a Master's course. JICA Expert Dr. Moritoshi IWAGAMI also supported her learning.
With the Pasteur Institute keeping busy conducting PCR diagnoses for the new coronavirus, staff at the virology lab had not been sufficient.
Therefore, members of the SATREPS project in the Parasitology lab, namely Ms. Pheovaly SOUNDALA, Ms. Sonesimmaly SANNIKONE and Dr. Sengdeuane, have been assisting as well.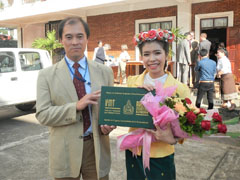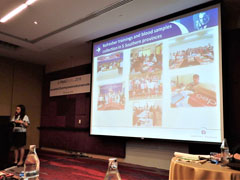 More staff members at Pasteur Institute have studied in Japan. One is Dr. Somphavanh SOMLOR, a virology lab researcher. She participated in short-term training on the Ebola virus organized by the National Institute of Infectious Diseases of Japan in December 2014. Now, she is typically responsible for dengue virus PCR tests and conducts these from the samples from the number of suspected cases every week.
Another is Dr. Siriphone VIRACHITH, a Vaccine Preventable Diseases Lab Researcher. She has a PhD from Graduate School of Medical and Dental Sciences, Tokyo Medical and Dental University. Before studying in Japan, she became a staff member of the Pasteur Institute. She participated in training on infectious diseases organized by the National Institute of Infectious Diseases in January 2015.
Also, the National Center for Laboratory and Epidemiology (NCLE) is a central PCR diagnostic institution for the new coronavirus in Laos.
Dr. Phonepadith XANGSAYARATH is presently the Director of NCLE with a PhD in malaria research from the Institute of Tropical Medicine, Nagasaki University.
He worked with SATREPS project after returning to Laos and has conducted lab and field research on Malaria with JICA experts at Pasteur Institute. In his forties, the young director has also been present at press conferences on COVID-19 held by the Lao Ministry of Health.
As the world tackles the threats from infectious diseases such as the new coronavirus, these professionals who have developed their knowledge and skills in Japan are doing their best to help Laos respond to the challenge.
*Project for Development of Innovative Research Techniques in Genetic Epidemiology of Malaria and Other Parasitic Diseases in Lao P.D.R for Containment of Their Expanding Endemicity from May 2014- April 2019.
This project was a part of the "Science and Technology Research Partnership for Sustainable Development (SATREPS)" supported by JICA and AMED (Japan Agency for Medical Research and Development) and undertaken by Japan's National Center for Global Health and Medicine (NCGM).