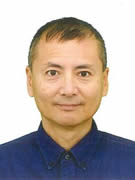 Assalam Alai Kum
I'm KAWASAKI Mitsuyoshi (Mr.), and in early May 2019, I've been assigned as a Resident Representative of JICA Maldives. I feel a close bond to Republic of Maldives. Because during my assignment as an Assistant Resident Representative of JICA Sri Lanka Office from June 1991 to November 1994, I was in charge of the operations in Maldives. One of my covering areas was Grant Aid to Maldives. I frequently visited Maldives both officially and privately. During private trips, my family members, especially children gained many unforgettable experiences. For them, ocean in Maldives is the best in the world.
Since then, a quarter century has passed and I'm looking forward to encountering various "hard" and "soft" changes. On the other hand, I would like to learn about Soft Power, which people of Maldives have kept in their mind as an important asset. It's glad if JICA Maldives would discuss about better bilateral cooperation in consideration of traditional values and new steps under the Constitution in 2008.
It's been more than 35 years since JICA Maldives was established. Together with Embassy of Japan, which opened in January 2016, we will strive to contribute to further social and economic development of Maldives by fully utilizing available resources in a comprehensive manner under the ODA policy.
Finally, I would like to express deep gratitude to everyone who has supported JICA Maldives. Please give us your continuous support and cooperation for Maldives' and Japan's brighter future.
KAWASAKI Mitsuyoshi Resident Representative, JICA Maldives Office