JICA Volunteer Program
JICA's volunteer program support activities by citizens who wish to cooperate in the economic and social development as well as the reconstruction of developing countries. Through these cooperation activities, participating volunteers can not only contribute to the development of partner countries but also gain valuable experience in terms of international goodwill, mutual understanding and an expansion in their international perspectives.
JICA Volunteer program has two types, one is Japan Overseas Cooperation Volunteers (JOCV) Program and the other is Senior Volunteer Program. JOCV was started in 1965 and JICA has sent total 40,428 JOCVs those who are between the ages of 20 and 39 year to 88 countries by the end of July 2015. In addition, 5,717 Senior Volunteers those who are between the ages of 40 and 69 year to 73 countries including Myanmar by the end of July 2015 to contribute the socioeconomic development of recipient countries.
Volunteer program is mainly categorized as below.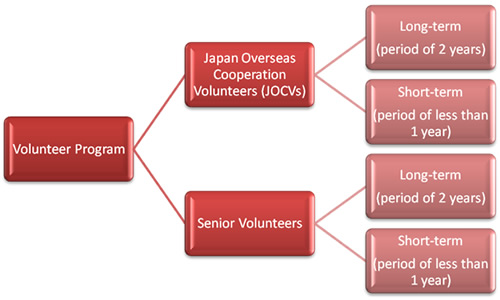 Senior Volunteers in Myanmar
JICA dispatch Senior Volunteers those who have strong desire to participate in cooperative activities in developing countries utilizing their solid experiences including specialized knowledge and technologies.
The first JICA Senior Volunteer arrived in Myanmar in January 2013 in order to work in the field of medical equipment engineering at Yangon General Hospital. Up to September 2015, JICA has dispatched total eighteen (18) volunteers to Myanmar in many sectors such as science and technology, health, transport, sports, agriculture, tourism sectors and so on. As there is more and more expectation for JICA Volunteer Program in many sectors, JICA is planning to expand the volunteer program in Myanmar.
One of the JICA Senior Volunteers, Mr. Takeda Kengo is currently working in the field of computer technology at University of Computer Studies, Yangon (UCSY) for 10 months in Myanmar. He was dispatched to Myanmar to share his experiences with Myanmar lectures and to give the training on embedded system technology for post graduates. He enjoys working with local lecturers and giving lectures to students. Whenever he works at UCSY, he wears Myanmar uniform (Longyi). You can see him, the guy who is always smiling, and wearing Myanmar dress if you visit UCSY in Shwe Pyi Thar.