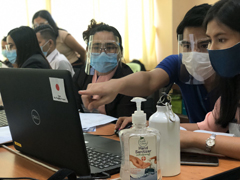 Under the threat of COVID-19, both Myanmar, including CBM and domestic & internationals banks, and Japan sides have made a joint effort to realize the successful launch of Central Bank of Myanmar Financial Network System 2(CBM-NET2) on 16 November, 2020. This is advanced and upgraded version of original CBM-NET.
Japan International Cooperation Agency (JICA) supported to implement CBM-NET, a secure and efficient payment and settlement infrastructure, in January 2016, and contributed to the development and computerization of the financial and banking sector. Since then Myanmar's economy is growing at a remarkable pace and financial institutions in this country have been improving their efficiency to provide better services to public through ICT and new technologies, such as mobile banking, mobile wallets and core banking system. In response to the rapid development in recent years of IT systemization of the core business of banks, CBM-NET2 has been developed based on experiences of national payment systems in Japan. Additional features will be added to the system over the first half of 2021.
Although the percentage of households with access to formal accounts remains low, the launch of CBM-NET2 will enable 24/7 domestic MMK remittance with different banks, bulk payments such payroll transfer and automatic withdrawal of taxes and utilities bills. In addition, straight-through processing (STP) between central banks and commercial banks system and electronic check processing will improve the efficiency of payments from every state and region. It will make formal remittance services more accessible to those who have previously relied on cash payments and high-risk informal remittances, which will eventually contribute to the promotion of the financial inclusion in Myanmar. Shift from the traditional cash-based economy to electronic "cashless" payment will also provide a solution to the new challenge of coexisting with COVID-19.
Not only supporting the implementation of the system itself, JICA is supporting the CBM through technical cooperation projects, including human resource development for payment and settlement system operation and maintenance, the formulation of guidelines and rules, and human resource development for monetary policy planning and implementation. JICA will continue its efforts to ensure that the speedy and secure CBM-NET is used by as many people as possible to help financial inclusion activities in Myanmar.