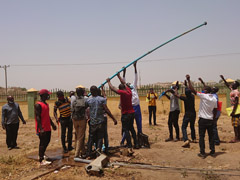 Field Training on Day 3
[Summary]
From 1st March to 5th March, FCT RUWASSA (Rural Water Supply and Sanitation Agency) conducted a capacity building workshop on "Establishment of Systems for Village Level Operation and Maintenance (VLOM) of Water Schemes" in cooperation with JICA.
The workshops were conducted for 36 borehole artisans from all six area councils in FCT (Abuja Municipal Area Council, Abaji, Bwari, Gwagalada, Kuje, and Kwali) and RUWASSA staff on sustainable borehole maintenance including supply chain management of spare parts of boreholes.
The workshop consisted of three-day class room lectures and two-day field training. At the end of the workshop, we handed over a manual and a tool box for borehole maintenance to each area council, so that continuous maintenance by participants is expected.
---
[Main Article]
The FCT Administration in conjunction with various development partners have been engaged in the provision of water supply to rural communities in the FCT in order to ensure that rural communities have access to potable water source, and the incidence of water borne diseases are eliminated or reduced to the barest minimum.
However, over the years, it has been observed that where water schemes were sited, there has always been the tendency for communities to see such projects as "Government's projects" with no sense of ownership. When such schemes break down, community members tend to wait for Government agencies to repair the water schemes, no matter how long it might take.
Due to lack of culture of ownership and poor village level operation and maintenance, these schemes are not sustainable. Based on the above-mentioned factors, there is need to establish Village Level Operation and Maintenance (VLOM) of water supply schemes to ensure improved sustainability of the water facilities.
To improve this, FCT RUWASSA and JICA conducted a workshop for 36 borehole artisans from all six area councils (six artisans from each area council) and RUWASSA staff on sustainable maintenance of boreholes in the community.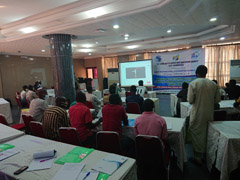 Lecture on borehole maintenance
In class room lectures, participants took pre-assessment test first, and learned 1) VLOM concept including supply chain system and roles and responsibilities of VLOM borehole spare parts traders, 2) types, features, and maintenance method of boreholes (such as MK III and Afridev), and 3) role of WASHCOM (Water, Sanitation and Hygiene Committees) in the community.
After class room lectures, participants joined two-day field training. Participants were separated into two groups, and each group visited Gosa community to learn how to fix borehole by actually fixing broken down boreholes in the community. This training includes lecture on how to check water quality and how to use chlorine to disinfect water from boreholes.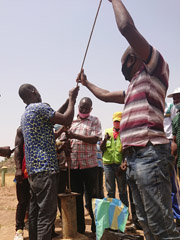 Fixing a broken borehole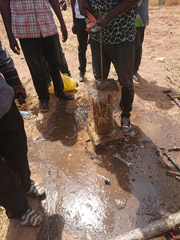 First water flow after fixing a borehole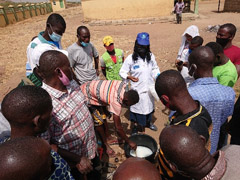 Lecture on how to use chlorine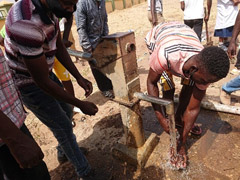 Water after using chlorine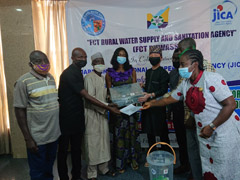 Handing over a manual, a tool box, and WASH items
In the last day of the workshop, participants shared their experience from field training, and took post assessment test to check what they have learnt from the workshop.
In the end, each area council received
1) borehole maintenance manual from FCT RUWASSA,
2) Tool box for borehole maintenance from JICA, and
3) WASH items (buckets and soap for each participants) from JICA. After this workshop, it is expected that the participants from each area council will fix and maintain their own boreholes in their community by themselves.