Japan Alumni Association of Nigeria (JAAN) organized annual anniversary celebration, "JICA Day" gathering in Abuja Saturday, March 20, 3-21. Under the strict guidelines of COVID-19, the representatives of various JICA's training programs who had no choice but had participated in the programs online were among invitees.
As networking, center and platform of knowledge and experience sharing of various JICA training program, the President of JAAN, Mr. Ahmed Agberankhe warmly welcomed those who could not attend the training programs in Japan as JAAN's new family, while ex-participants shared their precious experiences in Japan.
Dr. J.K. Naiyeju, ex-president of JAAN encouraged the participants to facilitate "innovation", "Creation" and "adoptability" through the experiences of JICA's training programs for the development of Nigeria.
Hoping the early convergence of COVID, Mr. Nakagawa, Chief Representative of JICA Nigeria expressed his sincere appreciation for the initiative and support from JAAN not only for establishing the network among the participants but also for creating the precious platform of sharing the knowledge and experiences among the participants of various JICA training program.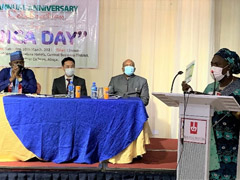 Ex-participant sharing her experience in Japan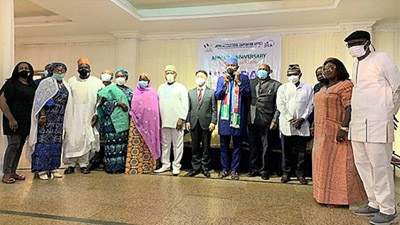 Mr. Nakagawa (at the center) with the executive committee of JAAN